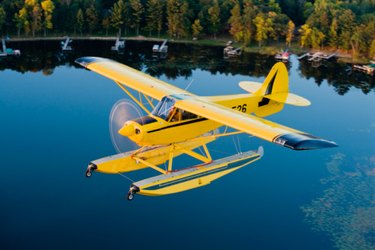 Seaplane pilots have discovered the magic of water flying, one of the most exciting segments of aviation. Earning a seaplane pilot's license provides the challenge of a new learning experience, the opportunity to acquire a new skill and the freedom to land a plane anywhere there is water. A seaplane provides access to remote locations for business, recreation, scientific research and exploration. A seaplane pilot rating may be obtained as the first rating in an aviation career or as an add-on rating for pilots who already hold a single-engine land rating. All pilots that carry cargo or passengers for pay must also hold a commercial pilot's license.
Income
The United States Department of Labor, Bureau of Labor Statistics, Occupational Outlook Handbook 2010-11 Edition reports that 2008 salary survey data indicates that the median annual wage for commercial pilots, as of May 2008, was $65,340. Commercial pilots in the lowest 10 percent of wage earners earned less than $32,020. Aviators in the highest 10 percent earned more than $129,580. Seaplane pilots may work for an outfitter or hunting guide, flying guests into remote recreation destinations. Clients may present the pilot with an additional gratuity for a job well done. Seaplane pilots often own their own plane, offering transport and sightseeing tours to paying passengers. Annual median income of owner/operators is dependent on paid hours of flight time, operating expenses and the number of paying passengers.
Job Description
Seaplanes, also known as floatplanes or amphibian aircraft, transport passengers and cargo to remote locations only accessible by water. Some models of amphibious aircraft can land or take-off either on a land-based runway or on water. Seaplane pilots may be required to load and refuel the aircraft and to perform flight checks and minor maintenance or repair.
Qualifications
A seaplane aviator should be in excellent physical shape. To obtain a commercial pilot's license, candidates must pass a strict physical examination administered by a FAA approved physician. Vision must be 20/20 -- with or without corrective lens -- and the pilot must have excellent hearing, reflexes and coordination. The applicant must not have any physical or mental handicap that could impair function. Applicants with a history of drug or alcohol abuse, physiological problems or heart problems may be disqualified. Because seaplanes often land in remote and inaccessible locations without mechanical services, pilots with experience and training in mechanical repairs receive preference in hiring and earn the highest pay.
Education and Licensing
The majority of licensed pilots in the United States obtain their training, build flight hours and gain experience while serving in the military. Others attend FAA approved flight schools. At time of publication, there are more than 600 approved flight schools in the United States. Although a degree is not a requirement to obtain a pilot's license, the majority of successful pilots hold a bachelor's or master's degree in flight engineering, aerodynamics or aviation management. Annual median income is dependent on education, experience and level of licensure.