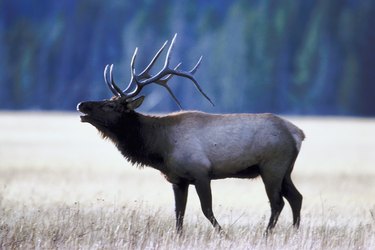 If you long to escape urban congestion, concrete and commerce, a career as a wilderness hunting guide in Montana's "Big Sky Country" may just be your ticket to a quiet, rural lifestyle. Working as a hunting guide offers a thrilling life adventure and a chance to explore and experience some of the wildest regions left in North America. A Montana hunting guide's annual income is dependent on geographical location, years of experience, number of clients, reputation for successful hunts and licensure.
Income
Bow hunting and rifle hunt guiding is seasonal work. Montana outfitters employ guides from September 1 to November 30 for the fall hunting season and April 15 to June 30 for spring hunts. Many hunting guides are also licensed fishing guides, pack horse wranglers or guides for hiking, wilderness photography, snow mobile adventures or white-water rafting as a means to supplement their hunting season income. Hunting guides working for an established outfitter typically receive payment by the day or by the month. In addition to a modest base pay, guides receive gratuities (tips) from clients. If the client brings down a trophy animal, the tips can be generous. Montana hunting guides receive between $75 and $325 per day. Gratuities typically average from $1,500 to $4,500 per month. Few hunting guides have job stability or benefits.
The Montana Department of Labor and Industry reports that in 2011, the median annual wage for hunting guides in Montana is $18,950. Guides in the lower percentage of wage earners received an annual average income of $16,210. Guides in the higher percentage of wage earners received $27,960 or more.
Job Description
A hunting guide must ensure the welfare and safety of hunting clients and non-hunting companions. Hunting guides arrange transportation, equipment, horses and supplies required to live and hunt in a wilderness environment. They make sure that the customer has clothing and gear suitable for the weather and the activity planned. Guides demonstrate weapons and teach hunting techniques applicable to the prey, terrain and climate conditions anticipated during the hunt. They explain Montana hunting rules and regulations and how they apply to the activities of the hunt. Using their knowledge of the localized area, they determine the best routes and campsites based on the interests and skill levels of their guests. Hunting guides may be required to provide first aid to ill or injured guests.
Qualifications and Licensing
Individuals do not choose a career as a hunting guide to become wealthy. They are motivated by a passionate love of nature, a desire to work in a spectacular wilderness setting and to breathe clear, clean air. Proficiency in weapons handling, care and maintenance is required. Employment as a hunting guide is hard and often dangerous work. Guides should present a confident attitude, an intimate knowledgeable of the terrain and be in excellent physical condition.
Hunting guides must be at least 18 years of age. To obtain a Montana hunting guide license, candidates must obtain a recommendation and endorsement from a licensed Montana outfitter and have a minimum of one season hunting experience. To receive a license, candidates must first have a valid Montana wildlife conservation license and a current first aid card.
Education
In 2011, there are 860 licensed guides and outfitters in Montana. Hunting guides typically learn their skills and gain experience as recreational hunters or fishermen. Many attend special guide schools. Individuals seeking to pursue a career as a hunting guide in Montana should contact the Montana Department of Labor and Industry to obtain rules, regulations, eligibility requirements and an application.