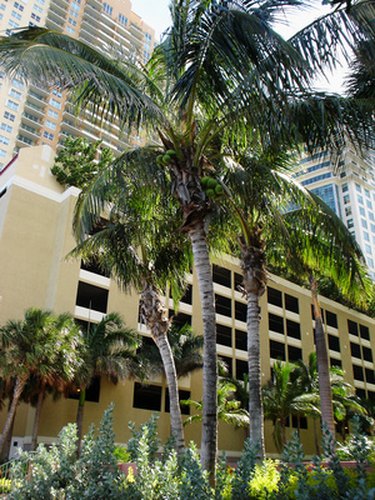 A certified nursing assistant, or CNA, provides basic patient care at the direction of a registered nurse or licensed practical nurse. She takes vital signs such as blood pressure and pulse rate, records the patient's food and fluid intake, monitors catheters, and changes bedpans. The CNA also helps patients with bathing and grooming, and often serves as a source of emotional support. The pay rate for a CNA in Florida depends in part on location.
Requirements
To obtain a certificate from the Florida Board of Nursing, a nursing assistant must be at least 18, demonstrate a minimum competency in reading and writing and successfully pass a background screening. The board also requires passing the nursing assistant competency examination, consisting of written and practical skills segments. The board strongly recommends but does not require prospective nursing assistants to complete an approved training program before taking the exam. Anyone who fails part of the exam three times must complete training before taking it again.
Salary Range
The average salary for a CNA in Florida as of January 2011 was about $30,230 per year, according to CBSalary, a salary calculator affiliated with CareerBuilder.com. The middle 50 percent of the earnings scale was a wide range at $24,550 to $41,720. The average nationwide salary for CNAs was a bit higher, at about $32,510, with the middle 50 percent range at $26,410 to $44,880.
Comparisons
Pay rates for CNAs in Florida vary significantly by city. Those in Tallahassee, for instance, were making an average annual salary of $28,310 in January 2011, while CNAs in Sarasota had an average annual salary of $32,120. The average annual pay for CNAs in Miami was $28,360, in Pensacola $30,190, in Melbourne $30,750, in Ocala $31,000 and in Jacksonville $31,110. The middle 50 percent range for this group of cities was $23,000 to $44,330 per year.
Specifics
The job search website Indeed.com listed about 900 jobs for CNAs in Florida in January 2011. Positions were available in assisted living facilities, cardiac units, home health agencies, hospital general floors, nursing homes, orthopedic departments, and senior living communities. Although job postings generally do not detail salary information, some employers provide substantial benefits to CNAs. In addition to health insurance and paid time off, CNAs may receive shift differentials for nights, weekends and holidays; extra pay for overtime; referral bonuses; profit sharing; a company-matched retirement savings plan; legal insurance; pet insurance; free sick child care; tuition loans and reimbursement; free notary service; and an employee assistance program.