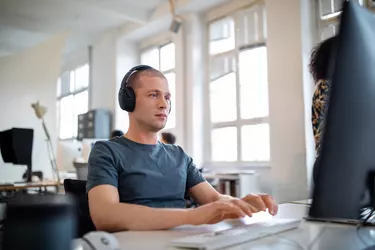 Most businesses today use computer technology in at least some parts of their operations. When problems occur, a technician is called in to restore function as soon as possible. Technicians are in demand; the employment website ZipRecruiter puts the average computer technician salary at ​$17​ per hour, or ​$35,892​ per year, effective June 2021.
Computer Technician Description
Computer technicians repair and maintain computer systems in business settings. Depending on their job description and level of skill, they may be responsible for any of the following:
Installing, setting up and repairing hardware
Training users on new hardware or software
Testing and evaluating the computer network

Troubleshooting network, hardware and software problems
Networking associated devices such as printers and scanners
Use an online employment website such as Indeed to look at actual job announcements. You'll get a good idea of what employers are looking for in terms of skills, education and experience. You can look at online resume examples for help in marketing your skills to prospective employers.
Computer Technician Education Requirements
Education requirements vary by employer and industry. A bachelor's degree in computer science or a related field is desirable, but smaller organizations with less complex hardware and software needs may hire individuals with an associate degree, coursework in the field or related experience.
In addition to computer skills, technicians need good communication and customer service skills. They must be able to listen to their clients and apply analytical and problem-solving skills to meet their clients' needs.
Computer Technician Industry
Computer technicians typically work indoors in an office setting. Some are permanent staff members of an organization, while others are employed by companies that send their technicians to various locations as needed. Depending on the job, a computer technician may have regular daytime hours, or be available to work evenings, nights, weekends and holidays as required.
As with most jobs, there are a number of factors affecting pay. For example, PayScale reports that technicians with expertise in electronic troubleshooting earn an average of 37 percent more than their colleagues without such skills. Help Desk and Desktop Support Specialists earned an average of 37 percent more.
Geographic location also makes a difference. The employment website ZipRecruiter has a state-by-state list of average salaries, updated as of May 2021.Top earnings were paid in New York (​$19.45​ per hour, or ​$40,457​ per year), New Hampshire (​$18.86​, or ​$39,218​), Vermont (​$17.82​, or ​$37,072​), Wyoming (​$17.37​, or ​$36,122​) and Maine (​$17.33​, or ​$36,052​).
When comparing salaries by location, be sure to take the cost of living into consideration. A cost of living calculator, such as the one that's offered free online by Pocketsense, lets you determine how much you need to earn to maintain your standard of living in a new location. For example, if you earn ​$39,218​ in Manchester, NH, you only need to earn ​$36,331​ at a comparable job in Phoenix, AZ, because the cost of living is 7 percent lower.
According to the employment website PayScale, the reported computer technician salary for individuals with less than a year of experience was ​$14.49​ per hour, or ​$28,980​ per year. Generally, you can multiply an hourly wage by 2,000 to get an annual salary. Reported salaries based on experience are as follows:
1 to 4 years of experience: ​$15.35​ per hour

5 to 9 years of experience: ​$18​ per hour
10 to 19 years of experience: ​$19.96​ per hour
20 years or more: ​$22.13​ per hour
Computer Technician Growth Trend
The U.S. Bureau of Labor Statistics (BLS) tracks data and makes projections for nearly all civilian occupations. In a category titled "Computer Support Specialists," which includes computer repair technicians, an 8 percent job growth rate is forecasted through 2029. That's a rate considered much faster than average when compared to other jobs. Organizations depend on computers and must continually upgrade equipment and software. There should be ample employment opportunities for computer technicians in the near future.