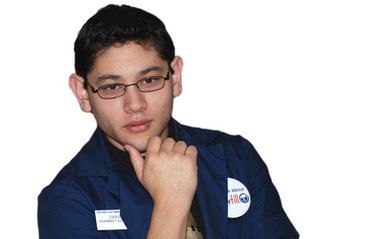 Because of the constantly evolving nature of computers and information technology, the job prospects for computer technicians are excellent. Computer technicians have working conditions and salaries based on several factors including their exact job title, education and training, the industry in which they are employed and the location in which they live.
Jobs
Computer technicians can focus on a variety of types of technology, such as hardware, software or applications. Network architects design, set up and test computer networks and configure systems, while network and computer systems administrators design, install and support entire computer systems. A systems administrator maintains the efficiency of a computer system, while database administrators work with database management software and create new computer databases. Computer security specialists work with an organization's information security in preventing cyber crime.
Working Conditions
According to the U.S. Bureau of Labor Statistics, computer technicians in most fields work in "well-lighted, comfortable offices or computer laboratories." While most work an average of 40 hours a week, about 15 of those in this field work over 50 hours a week. Because many computer technicians must be ready to work when a system experiences an emergency failure or issue, they are often "on call" and can work irregular hours.
Average Salary
The mean annual wage of computer specialists in the United States was $78,010 as of May 2009, according to the Bureau of Labor Statistics. Network and computer systems administrators earn less at an average of $70,930, and network systems and data communications analysts earn an average of $76,560. Database administrators fall within a similar range at a mean annual wage of $74,290.
Salary Conditions
Industry and location have a bearing on a computer technician's salary. The highest paying industry for computer specialists is that of petroleum and coal products manufacturing at $99,250, and the highest paying state for those workers is Washington, D.C. at $104,080. Network and computer systems administrators earn a mean annual wage of $89,840 in the industry of computer and peripheral equipment manufacturing, and earn the most in New Jersey at an annual mean wage of $81,160. The highest paying industry for network systems and data communications analysts and for database administrators at $98,750 and $106,460, while the top-paying state for the former is New Jersey at $90,120 and Maryland at $84,300 for the latter.