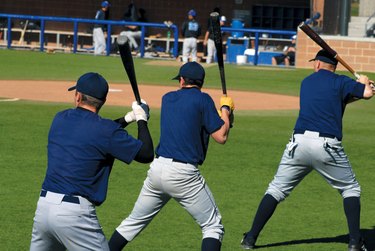 Though their names are seldom mentioned and they labor in relative obscurity, Major League Baseball hitting coaches are responsible for the success of some of the league's top hitters. Their roles are very important, even if their jobs are not always secure. All 30 teams in the league employ at least a hitting coach. Though not as well-paid as their bosses, team managers, hitting coaches earn significant salaries.
The Basics
Hitting coaches in the major leagues are hired by teams to work with players on hitting techniques and the mechanics of their swing. Some hitting coaches, such as Mark McGwire, were former players in the major leagues. Hitting coaches in the major leagues are paid a yearly salary in the six-figure range, and top coaches make approximately $1 million annually. It is also customary for coaches to receive pay raises.
Averages and Comparison
MLB is a spectator sport. As such, the Bureau of Labor Statistics lists the average salary for coaches of spectator sports at $58,400 annually as of 2013. Though no exact figures exist for the salaries of MLB hitting coaches, the top hitting coach earned approximately $800,000 annually as of 2010, according to an article by former MLB general manager Steve Philips for AOL News.
A Look at the Numbers
In October of 2009, longtime hitting coach (considered to be one of the best in the major leagues) Rudy Jaramillo signed a three-year contract worth $2.42 million with the Chicago Cubs. Under this contract, Jaramillo earned a little more than $800,000 yearly, but he was fired in 2012. As of 2011, the Cubs had the sixth-highest payroll at $127.79 million, and an average salary of more than $5 million according to a report by USA Today. In contrast, the Tampa Bay Devil Rays had one of MLB's lowest salaries, according to the 2011 report, and manager Joe Maddon earned approximately $550,000 annually. Hitting coaches do not earn as much as team managers. As of 2014, more than half of the league's teams have a payroll below $100 million.
Salary Matters
In spite of their success in the major leagues as players, hitting coaches such as McGwire and Jeff Bagwell did not command the highest salaries while with the Astros. Those with a reputation, such as Jaramillo, sometimes receive multi-year contracts. Prior to his contract with the Cubs, Jaramillo was the MLB's highest-paid hitting coach, with a salary of $650,000. In spite of payroll limitations and what they may have paid their other hitting coaches, teams such as the Cleveland Indians, New York Mets and San Francisco Giants bid for Jaramillo's services.