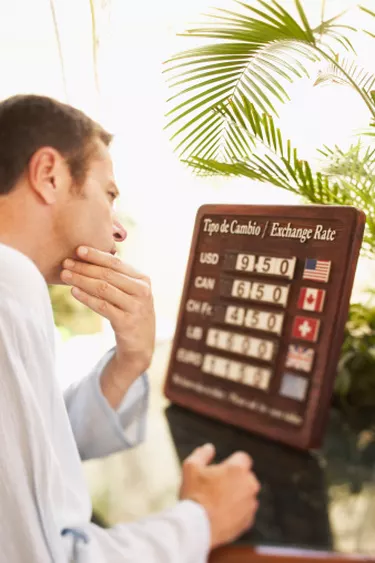 International banking involves understanding the various types of financial markets that exist around the world and utilizing the investment potential unique to each market. The profession involves a high degree of mathematical numeracy, a passion for current events, and an understanding of how politics, economics, and business function on a global scale. International bankers are increasingly in high demand as markets become more interconnected, which has brought international bankers high salaries and a host of other perks, such as international travel and connections all over the world.
International Financial Managers and Analysts
Workers in the financial industry who focus on international banking tend to fall into two groups: financial managers and financial analysts. In both cases, the workers have special training to handle complex transactions involving different currencies, different market conditions and international law. While their jobs are similar in many ways, their wages and job duties differ enormously.
International Bank Manager Salaries
International bank managers usually manage accounts that banks have with foreign partners and clients. They often manage customer services for foreign clients as well as investment funds focused on foreign markets. According to the Bureau of Labor Statistics, the median salary for a bank manager was 37,150 in May 2008. However, this number takes into account all bank managers, including those that lack the responsibilities of an international bank manager. According to Michael Page International, a UK-based consultancy firm that specializes in international banking recruitment, international bank managers could expect to earn anywhere from £40,000 to £150,000 as of June 2011, $64,620 and $242,530, respectively, depending on the scope of their responsibilities and level of experience.
International Financial Analyst Salaries
International financial analysts have a much more detail-oriented job that involves analyzing the profitability of various investment opportunities abroad. These jobs involve number crunching, handling massive amounts of data and travel to meet with potential and current clients and partners. According to the BLS, financial analysts earned anywhere between $44,490 and $141,700, as of May 2008. While international analysts usually earn a similar amount as domestic analysts, they sometimes earn a bit more because of their specialized skills.
Bonuses and Other Perks
Like most other careers in the financial services, financial analysts and international bank managers earn the bulk of their income from bonuses and other perks, such as the use of company property and paid vacations. These bonuses are anywhere from 20 to 100 percent of the analyst's and manager's salaries and are awarded annually or multi-annually, depending on responsibilities, performance and market trends.