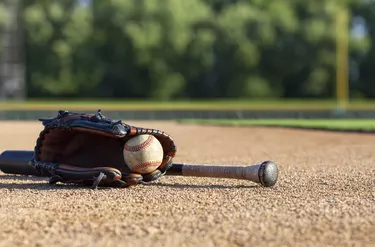 Major league sports coaches work seasonally and with other coaches under team managers. A top MLB coach salary can be unbelievable; someone like Chicago White Sox manager Tony La Russa has a net worth of tens of millions of dollars. Though most MLB coaches don't make that kind of money (or as much as the highest-paid players on the teams), they can earn very comfortable livings working as head and specialty coaches for MLB as well as the NFL and NHL.
MLB managers have hitting coaches, pitching coaches, bullpen coaches, first- and third-base coaches and bench coaches working under them. These individuals are responsible for coordinating pitcher rotations, instructing runners when on first and third base and helping players hit more home runs. One of the highest-paid MLB coaching salaries on record was Rudy Jaramillo, who earned over ​$750,000 a year​ when he worked with the Chicago Cubs. Since the data aggregators at the U.S. Bureau of Labor Statistics show that the average annual pay for coaches and scouts in this country is ​$38,970​ a year, the difference is pretty incredible.
MLB does not usually share its salary information with the public, including the salaries of MLB managers. Still, a high six-figure income is generally assumed to be the case for the league's most elite coaches, especially those who specialize in pitching and hitting. All 30 MLB teams have at least one hitting coach on staff, and those at the top of the heap earn more than ​$1 million​ annually. Many of these dedicated coaches are former major league players and come with reputations that can earn them higher initial salaries; others began their careers as trainers.
MLB managers make more than ​$1.3 million dollars a year,​ and besides managing their coaching staff, they also implement game plans and decide on game lineups and strategies, like pitch selection and whether or not to bunt. Often, many of these choices are made by assistant coaches and catchers. Managers report to team owners and general managers, who hire personnel and staff members and make other off-field decisions.
MLB managers work many hours during the season and post-season, with the pressure building as the games progress. The hours can be irregular and consist of daytime, nighttime, weekend and holiday games. They also frequently travel to playing venues and have to attend meetings and industry events outside of the time they spend at their games. Many also have to work in the off season as well.
What Is Sports Insurance?
MLB managers, coaches, players and executives likely receive health benefits and are fully insured should an accident occur during a game. The Insurance Information Institute noted that there were over 70,000 injuries related to baseball in 2020. Sports managers who are just starting and organizing their team will need to have plans in place should anyone get hurt while traveling to games or when playing. Insurance companies offer sports insurance (also called event insurance) policies that cover accidents, damages and lawsuits that occur during sports events. These are put in place when sports leagues are business or legal entities requiring insurance plans; in these situations, personal insurance policies are unlikely to cover injuries.
Directors' and officers' liability insurance will provide for the business side of the sports team, while accident insurance is for injuries that happen to players and spectators. General liability insurance would kick in when an accident results from negligence (such as a slippery oil spill on the steps that was obvious and not cleaned up even though someone had told the venue owner about it). Although this kind of insurance is not something that MLB coaches typically get involved with, a player or other staff member injury could impact their job responsibilities temporarily.