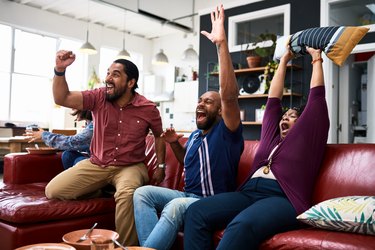 Switching to streaming services from paying for cable channels can be a great way to save money. But if you're a sports fan, giving up access to sporting events is likely a no-go. Luckily, streaming providers now give you access to all the sporting events you'd get with cable, but it's important to choose the right service.
Best Sports Streaming Services
Before you look at the platforms with the best sports coverage, you'll need to look at your options with your current streaming devices. If you have a smart TV or you use a device like Sling TV, DirecTV Stream, Roku or another device, there are likely limits to the number of streaming services.
Chances are, you'll be able to access popular streamers like Hulu + Live TV, Peacock and Amazon Prime Video. But less high-profile services like fuboTV might slip under your notice. With the growth in streaming service popularity, though, sporting events are becoming a larger part of every platform.
Serious sports fans can save money by heading straight to the source. ESPN+ gives access to archived sporting events for only ​$6.99​ a month. You can stream ESPN demand content through your Roku, Fire TV, Samsung Smart TV or popular gaming consoles.
But your ESPN subscription won't give you access to all the live sports. For that, look into a subscription like Paramount+ that includes major networks. Most live TV streaming services that carry networks like CBS, Fox, NBC and ABC in real-time will get you to the games you want to watch.
Finding Regional Sports Networks Online
One thing you might give up when shutting off cable is the regional sports programming you've been enjoying. Known as regional sports networks, these setups are negotiated through contracts. The bad thing about this is that those relationships can occasionally be at risk of cancellation, as almost happened between YouTube TV and Fox Sports.
Luckily, streaming providers now give you access to all the sporting events you'd get with cable, but it's important to choose the right service.
Another option for regional sporting event coverage is DirecTV Stream. You can search for regional event availability by entering your ZIP code in the channel finder. The downside is that DirecTV Stream is pricier than some other services, with packages starting at $69.99 a month, compared to $10.99 a month with YouTube TV.
Finding College Sports Online
As with other sporting events, if your streamer provides local channels, you'll likely be able to catch your favorite college teams. But cord-cutters should also check to make sure the college sports networks are available through their chosen platform, even if it requires an add-on.
There are several networks specific to college sports. The Big Ten Network is now available through Fox Sports, which you can access through many of the popular streaming platforms or as a standalone app. The SEC Network, available through Sling Orange for $35 a month, will give you those games.
You might not always be home on game night. Even if you are, maybe you'll want to save evidence of your favorite team winning for later. That's where DVR storage is an important feature.
If your chosen service has local networks, you'll already get access to major sports events. Make sure it includes a cloud DVR for not only capturing football games but also your favorite TV shows. fuboTV has local networks, and the cloud DVR is included.
You don't need all the sports channels to get access to the sports you love. But keep in mind your year-round sports needs, including MMA, the PGA tour and playoffs, and make sure you choose a streaming service that will have you covered when the time comes.