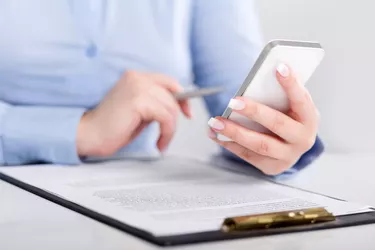 If you have or are considering cell phone service through AT&T, you may be looking for more information about their security deposit policy. It's important to understand what you are signing up for when you commit to a phone provider, so it's worth doing your research about these security deposits. This way, you can anticipate your costs and a timeline for getting the deposit back.
What Are AT&T Security Deposits?
According to AT&T, they hold a security deposit on new account holders for the first year of service. This is generally impacted by credit score; the payment may range from $250 for those with good credit to as high as $750 total per plan for those with credit below 600. While there isn't a specific or public credit score needed for AT&T wireless, you may be subject to a higher fee the lower your score; some estimates suggest scores under 500 won't be eligible for any plans.
The security deposit is just that: a way for the wireless provider to ensure that they don't lose money if you default on your payments. It generally only applies to post-paid plans. There is really no way around the security deposit; it applies to all new customers.
If you cancel your account for any reason, your security deposit will be applied to any outstanding balance you may have. Once all charges have been posted and paid by you, the remaining security deposit will be returned to you. If your account was canceled and you have a legitimate claim to a refunded security deposit, the company notes it may take 60 days for the refund to process. From there, you can expect a refund check to arrive within five to seven days.
Getting a Security Deposit Refund
Fortunately, it is possible to get out of the AT&T security deposit eventually. The company explains that, after 12 months of continuous service with their brand, you can get a refund for this deposit amount. It's important that your account not be suspended for any inactivity or lack of payment during that year of service, however. If either of these occurs, you may not be eligible for a deposit refund.
At the time of a deposit refund request, your account must be current and paid in full. To request a refund, you should first sign in to your account with AT&T online. Be sure that your physical address and all contact information are up to date. Then, you can request the refund. Note that it may take up to 15 days for AT&T to process your security deposit refund. The company also notes that the deposit amounts won't earn interest, unless you live in a state where such interest is required by law.
Don't want to deal with a security deposit at all? Some small cell phone companies may not have this requirement. You can research other options or choose a prepaid plan if you don't have a great credit score or would like to avoid a security deposit.
Additional Help With AT&T Credit Requirements
The security deposit for AT&T can be confusing. If you need additional help with this or other credit requirements the company has as you attempt to sign up for service, you can call them at 800-331-0500 or dial 611 from your AT&T wireless phone. You can also chat with the company online or visit a retail location for help. They may be able to help you with AT&T phone deals that make any required security deposit more palatable.
Note that the way you get your refund will vary depending on how you choose to pay your bill. AT&T explains that those who pay their bill with a credit or debit card will get a refund sent directly to their card. If you pay by electronic bank draft or check, you'll need to wait 14 days for any overpayment to clear before any refund will be sent. To get a refund sooner, you can provide proof on letterhead from your bank that the transaction cleared and isn't in dispute.
Electronic refunds through a bank may be subject to a 14-day hold period, depending on the circumstances. You'll need to confirm your routing number and account number with AT&T before they'll send you a refund.