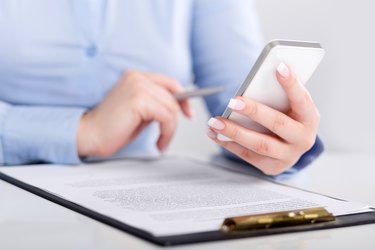 A drawback to AT&T cell phone service for anyone with average, fair or bad credit is the security deposit requirement. AT&T will hold the deposit, usually in a non-interest bearing account, and use it to cover your payment obligations if the account becomes delinquent or pay the early termination fee if you should cancel the account.
Security Deposit Basics
Depending on your credit score and account payment history, the security deposit requirement can range from $100 to about $750. To see what yours might be, use a security deposit calculator. If you don't know your credit score, use the MYFICO credit score tool to estimate a range within your credit score might fall.
Even though the company will refund the deposit automatically after 12 consecutive months of on time payments by crediting your account or by sending you a refund check, coming up with what may be a sizable initial deposit can be be difficult.
Except for international students who attend a university that offers a waiver program, AT&T has no formal security deposit waiver program. In addition, customer service representatives don't have much leeway in reducing or waiving security deposits on a case-by-case basis, especially for people whose credit score reflects a poor payment history.
Although it may seem that short of attaching yourself to another person's Mobile Share Value plan or joining the AT&T prepaid GoPhone plan, you have no choice other than to pay. A letter of credit from your previous cell phone provider, if you have one, and one or two utility companies may work to reduce or possibly eliminate the requirement.
Letter of Credit Requirements
Each letter must meet the following criteria:
The letter must be on company letterhead
It must show you've completed at least 12 months of continuous service within the past two years
It must state your account shows no notations for non-payment, dishonored checks and no more than one overdue notice
Tip
Contact AT&T customer service by phone at 888-333-6651 on weekdays between 7 a.m. and 11 p.m. and on the weekend between 7 a.m. and 10 p.m. to set up new service. After the representative gives you the security deposit amount, ask to speak with a manager and state your case for reducing or eliminating the deposit requirement with letters of credit. If it works the manager will provide mailing or faxing instructions.
A letter of credit request is more likely to be successful for people whose scores reflect too little credit than for those with established credit but whose scores reflect a poor payment history.
AT&T only considers the primary account holder's credit score and history when making a security deposit decision. If you plan on opening an account with multiple lines, have each person check their credit score and then appoint the person with the highest score as the primary account holder.