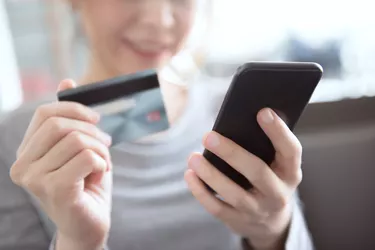 If you're looking for a convenient way to deposit your paychecks or other payments, Walmart's direct deposit service may be a good option for you in lieu of a traditional bank account. Learn how to sign up for direct deposit at Walmart.
Walmart explains that it offers a Walmart MoneyCard debit card, which is a prepaid card that is a Visa debit card through Green Dot Bank. It also offers a Walmart credit card through Capital One. They have functions that can act like direct deposit.
With the Walmart MoneyCard account, you can have your paycheck or other payments deposited directly onto the card. Since it is a prepaid card, the funds will then be available for you to use right away. Cardholders can choose to spend this money at Walmart or elsewhere.
The cards are accepted anywhere that Visa or Mastercard debit cards are accepted throughout the United Starts. There is no credit check required to get a Walmart MoneyCard. You will also enjoy overdraft protection up to $200 with the MoneyCard provided that you opt in and have an eligible direct deposit.
For some users of the MoneyCard system, you can actually get your funds two days before payday with the Walmart early direct deposit option. You may also be approved to get any benefits up to four days before you normally would from your employer.
Signing Up for a Walmart MoneyCard
To sign up for direct deposit with the Walmart MoneyCard, you should visit walmartmoneycard.com or text DD to 372674. You will be given a direct deposit account number and a routing number. Be certain that the name you sign up with matches what your employer has on file for you. Then, you'll need to provide your employer with the following information:
Walmart MoneyCard direct deposit account number

Routing number for the Walmart MoneyCard (this can be found on the back of your card)

This is just like signing up for a direct deposit option with a brick-and-mortar bank. Typically, those forms have you provide your checking account information, the percent of your paycheck you'd like deposited into the account and often a voided paper check for proof of your account and routing number.
Once you've signed up for direct deposit, your payments will be deposited into your account on the date indicated on your pay stub or other payment notification. The funds will then be quickly available for you to use. There's no need to wait in line at the bank or worry about cashing a check a certain number of business days before a bill is due. This can help you cut down on frustrating overdraft fees. With direct deposit through Walmart, everything is taken care of automatically.
Considerations for Using Walmart Direct Deposit
Before signing up for direct deposit at Walmart, there are a few things to keep in mind. First, while the funds from your direct deposit will be available immediately, they may not show up in your account balance right away. This is because your bank or credit card issuer may hold the funds for a short period of time before making them available to you for withdrawal at an ATM or for transfers.
Second, if you're using the Walmart MoneyCard, you'll need to make sure that there are no fees associated with receiving your direct deposits. Currently, the Walmart MoneyCard charges a $5.94 a month to make your direct deposit transactions. However, this fee can be waived if you have at least $500 in direct deposits made to your account in the prior month.
Overall, signing up for direct deposit at Walmart is a convenient way to deposit your paychecks or other payments. It's especially convenient if you frequent Walmart stores or use Walmart.com often, but you'll want to be sure you don't start spending more money at the retailer after enrollment (unless it suits your budget to do so).
With direct deposit, you don't need to worry about cashing a check or visiting the bank. It can be a useful way to build up a savings account or stick to a budget. Just be sure you are familiar with any rules for your deposit account before you commit.
Prepaid Green Dot Bank Visa Debit Card
Walmart explains that you can sign up for a prepaid Visa debit card through Green Dot Bank that you can use to create a direct deposit option too. With this option, if you have at least $500 in deposits in the prior month, you can avoid the $7.95 monthly fee. This option has a convenient mobile app available via the app store, and Green Dot Bank is a FDIC member.
Getting a Walmart Credit Card
With the Walmart credit card from Capital One, you can make purchases and earn cash back in a variety of categories, says Walmart. If you shop at Walmart frequently, this may make sense for you. There is a credit check required to get a Walmart credit card, but there are no monthly fees.