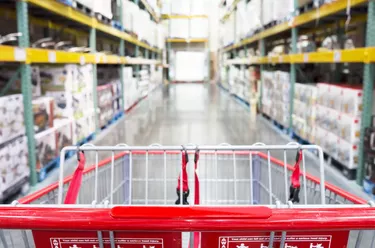 There are some gift cards that everyone can use, and gift cards for Walmart stores are one of them. Walmart sells almost everything Amazon does, from Apple electronics to actual apples. Some people don't realize that you can use this payment method at more places than just Walmart, including Sam's Club stores.
It's actually pretty straightforward to use a Walmart gift card at Sam's stores and Sam's Club gas stations. There are other ways and places to use Walmart gift cards too.
Can You Use a Walmart Gift Card at Sam's Club?
Yes, you can use a Walmart gift card at Sam's Club, including at Sam's gas pumps. Where can you use Walmart gift cards? According to Walmart, you can use them at:
Any Walmart stores in the United States or Puerto Rico
Online at Walmart.com
Sam's Club stores (with a membership)
Online at Samsclub.com
Select Murphy USA fuel stations
You can use your Walmart gift card balance at the checkout at Sam's the same way you use a credit card. Swipe the magnetic strip in the machine or hand the card to the checkout person. Typically, no prior activation is required for using gift cards. Sam's Club members do not pay a gift card fee. You'll pay a 10 percent service charge on your purchase if you're not a member, though.
How to Use Your Gift Card at Sam's Gas Stations
You can also use your gift card at Sam's Club, Murphy USA, Murphy Express or Walmart gas stations. Follow the same procedure as any standard credit card or gas gift card. Before using the gift card as your payment option, be sure it has enough available balance to cover your gas needs. Swipe the gift card just like a regular card and follow the prompts on the pump. You can also use your Walmart gift card inside Murphy USA gas stations for merchandise or to reload the card before you purchase gas.
If you have a Walmart eGift card instead of a traditional plastic gift card, you can still use it in person at Walmart or Sam's Club. One of the simplest ways is by downloading the Walmart app on your smartphone and loading the gift card there. Otherwise, print out the gift card information, including the number, SKU or QR code. The person at the checkout will know what to do with it.
How to Use Your Gift Card Online
When you have a Walmart gift card, you can use it online at Walmart.com or Samsclub.com. Just load your cart with whatever you want to buy. When you check out, select the gift card option as payment.
Enter the gift card number, which is usually a 16-digit code on the back of the card. In addition, you will need the card's PIN, which you'll find under the silver scratch-off on the back.
Can You Use a Walmart Credit Card at Sam's Club?
Yes, you can use a Walmart credit card anywhere Mastercard is accepted, including Sam's Club. You'll receive Walmart reward points for every dollar you spend and special discounts at Walmart stores.
Gift cards with major credit card logos make fantastic gifts, especially if you don't know the recipient well. You can use these cards, which may be Mastercard gift cards, Visa gift cards or American Express cards, just like regular debit cards. You can swipe them in person or enter the gift card number online. If someone you don't know asks you to pay them with gift cards, remember that the Federal Trade Commission does not recommend doing this, as it could be a scam.
Unfortunately, most of these gift cards do not have a cash-back option, so you can only use them for merchandise. That's true at all locations.