Individuals and families in Georgia who find themselves needing a little extra help paying for groceries every month can take advantage of the Supplemental Nutrition Assistance Program, or SNAP. Formerly known as food stamps, SNAP benefits are uploaded to an Electronic Benefit Transfer card, which families use at participating stores to shop for essential food supplies. If the EBT card becomes lost or stolen, put in a request for a replacement card as soon as possible.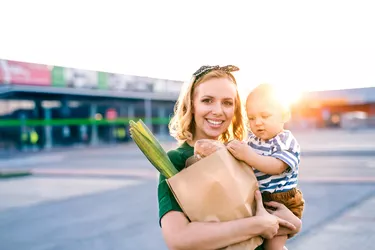 How to Protect Your EBT Card
EBT cards are originally sent in a nonactive state so if they are intercepted in the mail they can't be used. When you receive your card, call 888-421-3281 and follow the prompts to activate the card and choose a PIN. It is important to never enter your PIN at a payment terminal when someone is watching and don't write the PIN on the card itself. For added protection, sign the back of the card and keep it away from magnets and electronic equipment.
How to Request a Replacement Card
Call customer service at 888-421-3281 (or use TTY at 844- 622-4023 if you have a hearing or speech impairment) as soon as you realize you no longer have your original card. Tell the agent you need a replacement card, and she will immediately disable the old card so that no one can use it. You may be asked to verify your account number and personal information before the agent will disable the old card. The customer service employee will mail a new EBT card to the address you gave at the time of your original application. If your address has changed, be sure to tell customer service. The card will arrive within four to nine days. Although your PIN remains the same as the one you originally selected for your previous card, you can always contact the customer service team to request a new PIN.
What to Do if You Suspect Fraud
If you believe or have evidence of SNAP benefits fraud, it is important to report it right away. Fill out the online form at the USDA's Office of Inspector General website. Your complaint can remain confidential — you can include your name or opt to report the fraud anonymously. Another option is to call 202-690-2474 to make the complaint by phone. You can also mail a written letter detailing the suspected fraud to USDA, OIG Hotline, P. O. Box 23399, Washington, D.C. 20026-3399.