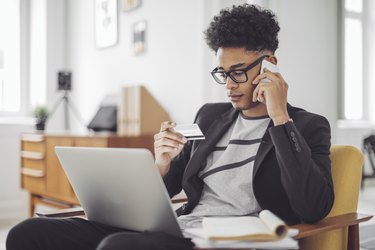 Electronic Benefit Transfer (EBT) cards are used to access state-issued benefits, including the Supplemental Nutrition Assistance Program (SNAP) and Temporary Assistance for Needy Families (TANF). The cards are issued in the mail and often include a brochure explaining how to use them. Before you can use the EBT card for the first time, you'll need to activate it. Generally, you'll need to select a Personal Identification Number, but in some states the PIN is automatically assigned and sent in the mail.
Activation By Phone
The number to call to activate an EBT is commonly found on the back of the card. It's typically the customer service number. You'll need to follow the automated prompts and select the option "activate your EBT card."
The process is similar to activating a debit card for the first time. Enter the card number and the PIN. Depending on your state, you may need to enter the last four digits of your Social Security number and billing zip code to ensure the card is in your possession.
Activation Online
It is possible to activate your EBT card online in most states. If your state allows for online activation of your EBT card, you should receive an information packet along with your card that will instruct you on how to activate it using personal details such as the card number, your Social Security number, your name and address. You can also see if your state offers online EBT services by checking the list available on the USDA Food and Nutrition Services website.
Where and When to Get Assistance
If you're having problems using your card or your card was lost, damaged or stolen, contact the EBT customer service number. If you don't have access to the card, the USDA Food and Nutrition Service lists each state's SNAP information and hotline numbers.
If you aren't able to activate the card or the card has a zero balance, it could mean your application isn't finished processing. SNAP applications can take 30 days to process, and TANF applications take up to 45 days. Contact your caseworker or local department of social services if you can't activate your card.