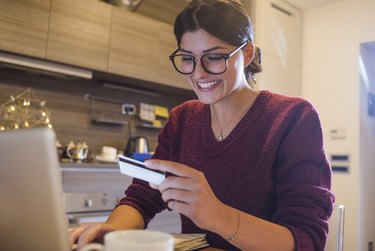 Whether you've received a Walmart electronic gift card via email or have a physical card, redeeming the card usually just involves a few simple steps. While a few situations require an extra activation step, you can usually just swipe your Walmart gift card right away at a checkout lane or enter its information online to apply it to your purchase. You also have the option to save as many as five Walmart gift cards to your account for later and use them with Walmart Pay for your convenience. Your card won't expire, but you need to keep it safe since Walmart won't replace it for you if you lose it.
Activating Your Walmart Gift Card
Before you can redeem your Walmart gift card online or at a physical store, you may need to follow an activation process depending on the type and value of the card.
For example, you don't have to do anything for electronic Walmart gift cards. However, you will need to activate regular plastic cards if they have $250 or more on them. Activation also applies to gift cards bought in large bulk packs.
If the cashier doesn't activate the card for you at the store, then Walmart should send you an email that guides you through the process. You can also reach out to Walmart for help if you encounter issues with this step.
If you want to use your Walmart gift card online, you can either do so directly at the checkout step or save your card to your Walmart.com account for later use. However, if your card doesn't have a PIN code on it for some reason, then you'll need to have Walmart exchange it before you can use the card online.
To use your card without any extra work beforehand, you can just click the "gift card" option once you get to the "Enter payment method" step of the ordering process. Click "Add New Gift Card" to see a form where you can input your Walmart gift card number and four-digit PIN code. You can then select "Apply gift card" to have the balance applied to the order and then select a secondary payment option if necessary to cover the rest. Any remainder will be saved to your account for next time.
When you don't want to use the card yet but want the convenience of having it ready for later for use in the Walmart app or website, you can save it to your payment methods. Click the "Account" option on the Walmart.com header, sign in, select "Account" again and locate the "Gift Cards" option. You'll then see an "Add New Gift Card" button that lets you enter the card's number and PIN code for later use.
Redeeming at Walmart Stores
When using an electronic gift card at a Walmart store, you'll need to show the printout or email to the cashier who can input the card information. If you have a regular plastic card, your cashier can swipe it for you if you'd like, or you can swipe the physical card yourself at a regular checkout lane or self-checkout station at the payment step.
You can also use Walmart Pay on your phone's Walmart app if you've already saved your gift card to your account. Once you open Walmart Pay, you'll need to enter the PIN code you set and go into your payment settings to choose the gift card. When you're ready to checkout, scan the QR code on the checkout screen or credit card reader to complete your purchase.
Redeeming Walmart Gift Cards Elsewhere
While you'll most likely use your gift card directly at Walmart, it will also work at associated locations such as Sam's Club's stores and website as well as Vudu.com. The steps for redeeming your card will be similar in that you'll either input the information at the online checkout process, show your card to a cashier or swipe it yourself at checkout. However, keep in mind that you will have to pay an extra fee of 10 percent to use the Walmart gift card at Sam's Club unless you have a membership.