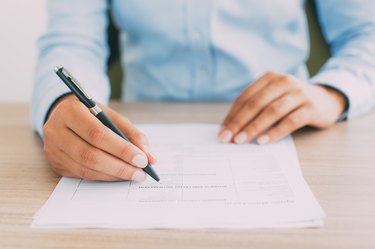 Loyalty programs may have evolved over the years, but they still follow the same basic principle. Customers apply for a rewards card, usually providing essential information, and earn discounts in exchange for allowing the retailer to track their expenditures. A Kroger Plus Card lets you earn points for every dollar you spend in one of the company's stores, and you can use those points to purchase gas at a discount. You'll also get exclusive discounts on items throughout the store.
Tip
You can apply for a physical Kroger card at customer service in any Kroger store. Virtual cards are available on the Kroger website, which will give you all that you need to take advantage of the discounts and points available.
Benefits of a Kroger Card
Kroger is the U.S.'s largest traditional grocer, with 3,100 stores operating under various names. The company marks a large number of items down each week, with the discount applied only after a customer's Kroger card has been scanned. You can also set up an online account, where you'll be able to browse coupons and easily apply them to your card.
Kroger Plus cardholders are also automatically enrolled in Kroger's Fuel Program, which issues points for every dollar you spend. Those points can be used at any Kroger Fuel Center, usually located close to a Kroger grocery store, or at Shell fuel pumps nationwide. You can also earn extra points by purchasing gift cards and prescriptions.
Getting a Kroger Card
There are two ways to get a Kroger rewards card. The first is the classic method: simply go to customer service at any Kroger store and request an application. With this option, you'll have a physical card in hand that you can use at any cash register. If you forget your card at home, you can always access your benefits by providing the phone number you entered on your application.
The second, easier, method involves signing up for an account at https://www.kroger.com/account/create/. This method will give you a virtual card number that you can use in any store. You can also input your phone number to access your benefits at the register in the store, as well. If you pick up your groceries using online grocery pickup, your discounts and points will automatically be applied using the card linked to your online account.
Checking Your Points Balance
Every time you check out, you'll see a printout of your points balance at the bottom of your receipt. Cashiers will also sometimes read out how much you saved and what your fuel points balance is. To use these points, you simply scan your Kroger card at the pump or provide your phone number on the keypad when prompted.
With an online account, it's easy to keep an eye on your fuel points, though. Simply input your Kroger login information by going to Kroger.com and clicking on the icon in the upper-right corner, then choosing Sign In. Scroll down a little and you'll see your current Fuel Points balance, along with their expiration date.
Loading Coupons and Special Offers
At one time, if someone wanted to use a coupon, it involved sitting down with the Sunday paper and a pair of scissors. With a Kroger login, you don't have to worry about that. You simply click on View My Coupons in the panel next to your points balance on the main Kroger.com page. Here you'll see all of the coupons you currently have, as well as those available to you. To apply, simply click a button and it will be loaded on to your rewards card.
Applying your coupons is also a part of taking advantage of Kroger's online shopping service. Once you've set up your Kroger login, you can immediately start adding items to your cart. If a coupon is available, you'll see it under the price, and you can add it to your card by checking the box. When you're ready to check out, you'll choose your preferred pickup location and set a time, then drive to the store you selected within the hour you chose.