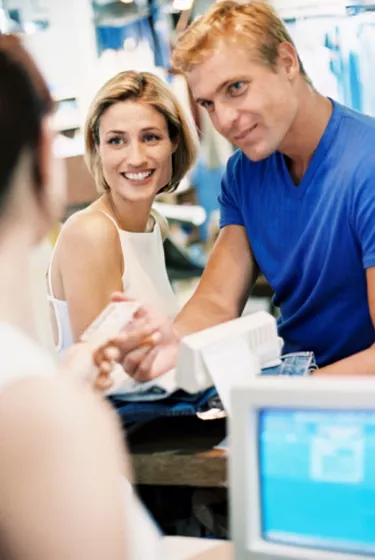 Earning reward points for certain purchases made at Kmart and Sears stores gives shoppers more opportunities to save money because they can use those points towards future purchases. Once you join Kmart's Shop Your Way Rewards program, you can start accumulating points right away by purchasing selected products and presenting your rewards card during each transaction. The rewards card also makes it easier for you to keep track of the points you've accumulated, so that you can redeem them before they expire. Kmart offers customers three different ways to check their points balance.
In-Store
Step 1
Use your rewards card or registration information to check your points balance at the store.
Step 2
Hand your rewards card over to a store clerk. The clerk will scan your card in order to bring up your account and view your points balance.
Step 3
Give the store clerk the email address or phone number you used when you registered for the program if you don't have your card with you at the store.
Online
Step 1
Log in to your account online. Kmart has set up a website where Shop Your Way Rewards members can log in to view their points. Log in to your account at www.shopyourwayrewards.com.
Step 2
Type in the email address and password you set up when you registered for the program in the "Member Sign In" section of the website.
Step 3
View your points balance under the "Account at a Glance" section.
By Phone
Step 1
Call the customer service department to check your points balance. Dial the toll free number on the back of your rewards cards to access your account information.
Step 2
Follow the directions on the automated message and enter the 10-digit phone number that you used to register for the program. The system then allows you to listen to your points balance over the phone.
Step 3
Choose the option to speak to a customer service representative if you can't access your information through the automated system. The representative can tell you your balance and provide instructions on using the points towards your online purchase. Keep in mind that customer service representatives are only available every day until 11 p.m. Central Standard Time.
Things You'll Need
Kmart Shop Your Way Rewards card

Computer with Internet access

Telephone