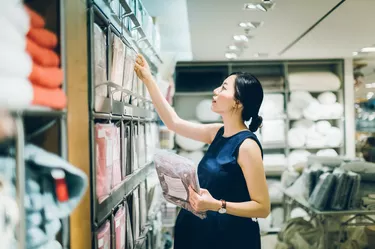 Kmart offers rewards points – called Shop Your Way points – to its shoppers to increase the value of their shopping experience. By redeeming these points, shoppers can save money on future Kmart purchases or purchases made from participating partners. Checking your Kmart points balance is as close as a couple of clicks or taps away.
Creating Your Kmart Rewards Account
Before you can check your Kmart rewards points, you'll first need to create a free account. Visit Kmart.com, and find "Account & Points" at the top right-hand menu. Click the drop-down arrow and choose the "Join for Free" option at the bottom of the drop-down list.
When you enter your email address and a password, Kmart will send you a confirmation email. Simply click "Verify Now" inside the email to activate your account. This account gives you a free membership to MyPoints, which is a community of retailers in which you can redeem your points.
Earning Kmart Rewards Points
As a Shop Your Way member, you'll receive 1 percent cash back in equivalent points for every $1 you spend. You can also earn additional points by shopping online at 1,900 participating retail sites, taking surveys, watching videos, participating in market research surveys and even reading BonusMail emails. You'll even be able to earn extra points through featured offers and other deals, which you can view at MyPoints.com/discover.
At the register, give the cashier your phone number or present your Shop Your Way membership number before checking out so the points from your eligible purchases can be added to your account. If you're shopping online, log in to your account before you check out or during checkout to receive your points.
Redeeming Kmart Rewards Points
If you're shopping in the store, ask the cashier to apply your rewards points to your purchase. If you're shopping online, apply your available points as you go through the checkout process. You'll have to provide your personal identification number (PIN), which you can find in your online profile in the "Manage My Account" section. The points will be removed from your balance, but you can keep earning points with subsequent purchases or other point-earning options.
Checking Kmart Rewards Points Balance
Visit Kmart.com and log into your account using the Member Sign In option at the top right-hand page. Click on the "Your Shop Your Way Points" menu option to see your points balance. If you visit MyPoints.com and log in to your account, your points balance will automatically display at the top right-hand of the page.
Member Exclusive Offers
If you opt-in to receive emails for special promotions when you sign up for your rewards account, you'll receive member exclusive offers from Sears, including sales and coupons. You can also visit Sears.com and click on "Deals" or "Coupons" at the top of the page to view the current specials.
If You Need Help
For any questions you have about your Kmart Shop Your Way Rewards program or points, call a Kmart Customer Service representative at 1-800-991-8708. You can also call or visit your local store, and you can use Kmart's "Find Your Local Store" online tool to search its directory of stores. Click or tap the "Store Locator" menu option at Kmart.com to access this feature.