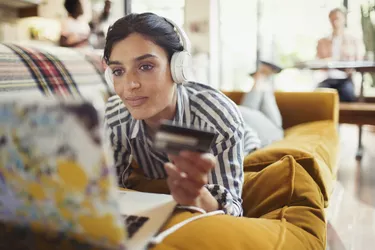 Bank of America offers many different credit cards that feature rewards. Despite the variety of cards with this benefit, Bank of America offers two simple ways to redeem points — regardless of the type of card you hold. Cashing in on your rewards is just a few clicks or a phone call away.
Redeem Online
Step 1: Log In to Your Account
To check your points balance, log in to Online Banking, choose your credit card and click the "Rewards" tab. If you're new to Bank of America's online banking, you must create an account before you can log in.
Step 2: Browse the Bank of America Rewards Catalog
After you log in to your account and are in the "Rewards" section, you can browse the Bank of America rewards catalog. The catalog offers a variety of options, such as gift cards, travel and cash back. The minimum balance you need to redeem for rewards is 2,500 points.
Step 3: Redeem Points
After you browse the Bank of America rewards catalog and make a selection, click the "Redeem My Points" button. Enter your order and shipment information and complete the checkout process.
Redeem By Phone
Step 1: Check Your Points Balance
Before you call to redeem your points, log in to Online Banking or check your most recent credit card statement to get an idea of how many points you have.
Step 2: Call the Redemption Line
To redeem Bank of America credit card points, call 800-434-8313 and choose option 2. You can redeem points by phone from 9 a.m. to 9 p.m. Eastern time Monday through Friday.
Step 3: Place Your Order
The redemption representative will redeem your points and place your order. If you don't know what you want to redeem your points for before you call, ask the representative to let you know what your options are. Depending on the type of card you have, there may be a fee for cashing in your points by phone. Ask the representative if a fee applies before you order.
Redeem with Mobile Device
Step 1: Sign into your Mobile Banking App
Simply tap the "View My Rewards" link and you'll be able to view your rewards balance and redeem your points. If you don't have the mobile banking app, visit BankOfAmerica.com and use the internal search feature to search for the app.
Step 2: The Erica Icon
As an option, you can also tap the Erica icon to access your account. Say "I want to redeem credit card rewards" to view your rewards balance and redeem your points.