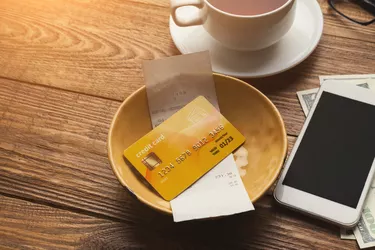 Cabela's CLUB Visa is now Cabela's CLUB Mastercard from Capital One. If you previously had a Cabela's CLUB Visa, your card will be upgraded to the new one and your points will transfer, but new members will be given a Cabela's CLUB Mastercard upon joining. To check the points you've earned on your Cabela's credit card, you'll need to set up an account at Cabelas.com or look at the bottom of the checkout page when you're shopping at the Cabela's or Bass Pro Shops website.
Tip
You can find your points balance at the bottom of the checkout page on the Cabela's website, or you can log into your account at Cabelas.com.
Checking Cabela's CLUB Visa Points
Cabela's is a national sporting goods retailer, specializing in products that cater to fishing, hunting and camping enthusiasts. In 2017, the company merged with Bass Pro Shops, combining their rewards programs. At the same time, Bass Pro Shops inked a multiyear deal with Capital One for its credit card program and soon after, Cabela's CLUB Visa became the Cabela's CLUB Mastercard from Capital One.
When you use your CLUB Mastercard at any Bass Pro Shops or Cabela's location, including their online stores, you earn points that you can redeem on future purchases. Those points never expire, as long as your CLUB card account remains in good standing. To equalize offerings, Bass Pro Shops cardholders saw a boost in the points they receive when the merger happened, while Cabela's customers continued to earn points at the same rate.
How to Check Cabela's Points
To check Cabela's points, you'll first need to set up an account at the Cabela's log in page. Once you're signed up, you'll be able to manage your CLUB card account, including checking your points balance and seeing your order history. You can also track any online orders through this portal.
You'll also see an updated balance whenever you place an order on the Cabela's site. At the bottom of the checkout page, there will be a section called Apply Discounts, where you're invited to redeem any points you've built up on your Cabela's credit card. It will show your number of points, along with the dollar amount available for you to spend on purchases. You can save up until you have enough to redeem on a purchase or apply the amount to what you're currently buying.
How to Redeem Points
In addition to letting you check Cabela's points during checkout, Cabela's also gives you an easy way to apply your points. You'll see a box titled Amount I Want to Redeem at the bottom of the page during checkout. Simply input the amount, then select Apply. Your points will be applied and your points balance updated.
You can apply your Cabela's credit card reward balance to any online purchase at Cabela's or Bass Pro Shops. Additionally, you can use your points on purchases in any Cabela's retail store. Just tell the cashier you want to use your reward points and hand over your CLUB card to apply the points to your total. If you're ordering by phone, tell the representative you want to use your points.
How to Earn Points
Whenever you make a purchase on your CLUB MasterCard at any participating location, you'll automatically earn points. Classic cardholders earn 2 percent on every purchase, while silver cardholders earn 3 percent and black cardholders earn 5 percent.
In addition to Cabela's and Bass Pro Shops, you'll also earn points on your purchases at Big Cedar Lodge, Big Cypress Lodge, Johnny Morris's Wonders of Wildlife National Museum and Aquarium, White River Fish Company, Blue Fin Lounge, Hemingway's Blue Water Café, Islamorada Fish Company, The Lookout at the Pyramid, Top of the Rock, Uncle Buck's Fish Bowl and Big Cedar Golf.
You don't just earn cash toward rewards at those locations, though. You'll get 1 percent cash back on your monthly spending on groceries, restaurants, entertainment, gasoline and other expenses. If you shop at Cenex® convenience stores, you'll get 2 percent cash back in CLUB points.