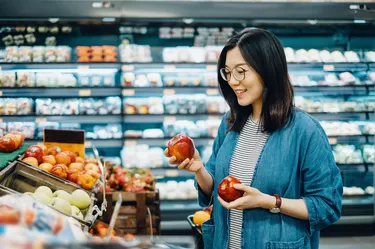 Until 2014, if shoppers wanted to save on their purchases, the Safeway Club Card was a basic requirement. The grocery store chain dropped the plastic card requirement in favor of offering the same savings based on your phone number. To register your phone number with Safeway, go to Safeway.com and create an account. If you still have a card, you can find your club card number printed on the front.
Tip
If you still have a Safeway Club Card, you can find your number on the front of the card. However, you can also use the phone number registered to your account to get points on purchases and redeem them at participating gas stations.
Find Safeway Club Card Number
If you're looking for your assigned Safeway Club Card number, look no further than the front of the card. It should be printed in bold, black lettering there. When the card requirement was still in place, shoppers could also input the phone number associated with the account at the cash register to get the discount.
However, you can still earn points for shopping at Safeway. Those points are good toward gas purchases, and the savings can add up over time. You'll simply input the phone number you used to register your Safeway card at the register to have your purchase count toward your points. You'll redeem those points by inputting your phone number or card number at the pump.
Registering to Earn Points
Just as you had to register your Safeway card, you'll also need to sign up to earn gas points on your purchases. Once you've created an account, you can order groceries for pickup and load coupons to your account. To register, go to Safeway.com and choose Sign In/Up, then Create Account. You'll be asked to input your phone number or card number and the store you'll be shopping at most.
For additional benefits, you may want to download the Safeway app. Available for Android and iOS, this app lets you clip coupons and see special offers. You can also build a shopping list for use while you're in the store. If you haven't registered online already, you can register in the app to get free gas points.
Using Gas Points
One of the biggest reasons to register a Safeway Card is to earn points that you can then spend on gas purchases. But the grocery store chain will also let you earn rewards that you can spend on groceries and cash discounts. Using your reward points, you can earn up to $1 off per gallon at participating gas stations.
To redeem your gas points, simply input your card number or phone number at the gas pump. You can also view current offers for redeeming your points in the store by logging into your account on the Safeway app or website.
Other Perks of Safeway Rewards
Once you've registered a Safeway club card, earning points is only part of the benefits you'll get. Members of the program also get access to personalized offers based on previous purchases. By signing up and using your phone number every time you make a purchase, you'll give Safeway's algorithms a chance to learn your purchasing preferences and customize offers that meet your needs.
If you download the Safeway app for your rewards points or to maintain your shopping list, you'll need to have a separate app if you want to use the store's delivery and grocery pickup options. You can order groceries using that app, which is also available for Android and iOS, and check out when you're finished shopping. This app will also track your points and give you customized offers that you can claim while you shop.