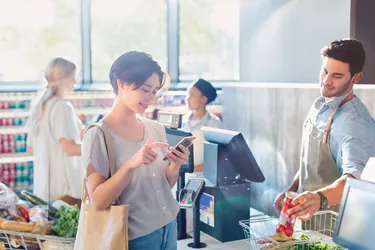 CVS Pharmacy, a nationwide pharmacy chain in the United States, provides both pharmacy services and retail services, selling health, beauty and office products as well as electronics, food and gifts. CVS has a special program called ExtraCare, which allows members to receive special discounts and coupons. When you join ExtraCare, you'll receive an ExtraCare card, which can be scanned by the cashier at CVS to apply your account. If you lose your card, obtaining a replacement is very simple.
Tip
You can easily get a CVS card replacement by requesting one online or going to a local CVS branch location and requesting one from an employee. Because your discounts and coupons are tied to your ExtraCare account number, you'll want a replacement card rather than a new account.
What Is CVS Pharmacy?
CVS stands for Consumer Value Stores. The first CVS store opened in Massachusetts in 1963 and sold health and beauty products. Eventually, the store became a chain, and by 1967, the stores began operating with pharmacies, eventually opening thousands of stores. CVS currently has stores in every state except Wyoming, as well as in Washington, D.C., Puerto Rico, and Brazil.
What is the CVS ExtraCare Card?
ExtraCare Rewards is a loyalty program created by CVS to provide value to repeat customers. The program is free; anyone interested in joining can simply sign up for the program, either online or in store, and obtain an ExtraCare card. The card, which can either be a wallet card the size of a driver's license or a fob that you attach to your keys, is scanned when you make a purchase.
The card stores information about your buying habits, which it uses to generate coupons to use on your next purchase. The card also tracks your purchases for purposes of accumulating goals and earning Extra Bucks, which are used like cash.
Benefits of a CVS ExtraCare Card
The ExtraCare Card can save shoppers money if they frequently go to CVS. The card will:
Generate CVS coupons based upon prior purchases. If you've purchased a certain brand of candy in the past, and an ExtraCare promotion for that candy becomes available, your ExtraCare Card will produce coupons for that promotion when you scan it for a purchase.

Generate Extra Bucks based upon items purchased. Extra Bucks may be generated if you spend a certain amount of money on a certain brand, if you accumulate 10 filled prescriptions or if you spend a certain amount on health or beauty. For example, if you visit CVS once per month to fill a prescription and scan your card every time, after the 10th scan, your card will generate Extra Bucks as a reward for filling 10 prescriptions.

Obtaining a Replacement CVS Card
If you lose your CVS card, finding a replacement is easy. You can access your ExtraCare account at CVS.com by registering and creating a username and password. The website will link your information to your ExtraCare card.
If you don't have the card and don't know the card number, you can use your phone number. Once you have an account registered, you can view your ExtraCare account number and request a replacement card by calling 1-800-SHOP-CVS.
You can also get a replacement card by stopping by a local CVS Pharmacy and asking a cashier for assistance. You can either start a new account and get a new card right in the store, or you can preserve your old account number and wait for a new card to arrive in the mail. If you keep your old account number, everything you've purchased will still be saved and still count toward your rewards goals.