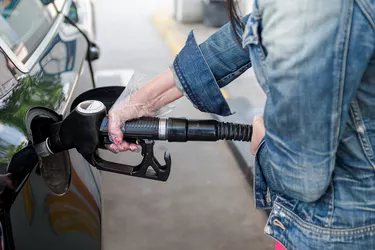 Paying for gas with credit cards is a fairly easy process, but reviewing the basics beforehand will help you have a hassle-free experience. In addition to learning how to use debit and credit cards, you should also learn how to use grocery store loyalty cards, which are growing in popularity, and gas cards, which are great for building or repairing credit.
Paying for Gas With Credit Cards
After you've pulled up to the pump, get out and make sure the hose will reach your tank. This sounds like a no-brainer, but if you start your transaction, then find you have to move your car, you might have to start the process over.
Once you're ready to start, insert your card into the pump and follow the directions. In some cases, you'll be asked to remove your card almost immediately. After this, you'll be asked to enter your zip code. In other cases, you might be asked to insert your card, leave it in and enter your zip code. You'll remove your card after it's authorized and you receive a message telling you to remove the card. You might hear a beep that alerts you.
Entering a zip code helps prevent fraud by preventing thieves from using your card.
The next directions you'll receive will usually be to remove the nozzle from the pump and choose your grade of gasoline by pressing the button that corresponds to it. Wait until the lights and prices of the three grades stop flashing and you see that the grade you selected is the only one lit. You can now insert the nozzle into your gas tank and start filling.
When you're done, return the nozzle to the pump and follow the instructions for ending your visit. You might be asked if you want a receipt. Press "yes" or "no" and wait for the receipt and a message like, "Thanks for your visit," to verify that your transaction is complete.
The process for using a debit card is almost exactly the same as using a credit card, except that you'll be asked for your debit card personal identification number, rather than your zip code. Once you've entered your PIN, follow the rest of the direction on the pump.
To encourage you to use their stations, many gas companies offer gas charge cards. They work just like credit cards, except that you can only use them at the gas stations associated with that brand. Many people use them to earn discounts and because they might often have a maxed-out credit card or no debit card or cash.
Gas cards are often easier to get than credit cards, so they can help you rebuild or improve your credit.
Some groceries stores offer fuel points you earn when you shop. You can redeem these points for discounts on gas. For example, Kroger gives you one point for each dollar you spend at their stores. When you earn 100 fuel points, you get 10 cents per gallon off gas at their fuel stations (outside the grocery store), up to a maximum of 1,000 fuel points, or $1 per gallon per fill-up. You can earn double or quadruple gas points when you buy groceries, prescriptions or gift cards, based on promotions they run throughout the year.
When you go to a Kroger fuel pump, you can pay with your credit or debit card, but use your Kroger Plus loyalty card to redeem your fuel points. If you haven't done any shopping, you'll get three cents off per gallon anyway.
When you arrive at the pump, you'll be asked if you're a Kroger customer. Choose "Yes." Scan your card, select the amount of points you want to redeem, then use your credit or debit card as you would for any gas purchase. You can also use your Kroger loyalty card at Shell stations for 10 cents off per gallon.
Kroger also has a credit card issued by U.S. Bank. Depending on the promotion that came with your card, you can earn an extra 55 cents per gallon off your purchase for the first 12 months, as long as you redeem at least 100 fuel points that visit.
When you insert your Kroger credit card, you'll be asked for your PIN to earn the additional 55 cents per gallon. If you max out your earned fuel points and Kroger card discount, you'll get $1.55 per gallon off. Kroger also has a debit card, and you can take Kroger's online survey using your grocery store receipt (maximum one survey and 50 points each week). Using their Kroger Pay app, you can earn even more fuel points.