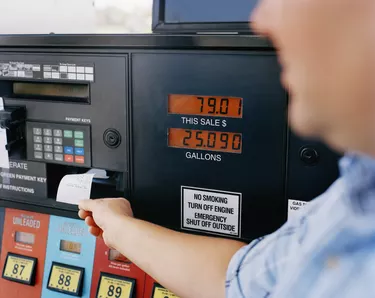 Using a check card – more commonly known as a debit card – at the gas pump is a convenient way to pay for your fillup and can help you keep track of your spending. Depending on the gas station, you'll follow a three- or four-step process most fuel pumps require.
You'll Need Some Information
Depending on what station you visit, you'll not only need your debit card, but you'll also need the card's Personal Identification Number (PIN) number and/or the zip code associated with the card's account.
For this reason, it's important to get this information from anyone letting you use a debit card to pay for gas. This might include someone you're riding with who gives you the card to fill up the tank while she runs into the convenience store, for example.
You can pay for your gas by asking the attendant at the station to pre-set the pump for a specific amount, or you can pay at the pump and fill up. If you know you only want to spend $10, $15 or some other amount, you can prepay at the window with the attendant.
You'll need to tell the attendant what pump you're using, then follow the directions for using your debit card. This might include swiping the card or inserting it into the card reader, then entering your debit card PIN. Once the transaction is approved, you can go to the pump and start filling. Once you reach your pre-paid amount, the pump will stop.
Paying at the Pump with Debit Cards
If there's no attendant, or you don't need any help, you can insert your card into the gas pump, fill your tank and leave. The steps for paying at the pump with debit cards are:
Insert your debit card into the card slot.
Select "Debit" or "Credit" if asked.
Enter the PIN when prompted and press "Enter."
Enter the zip code if you are asked and press "Enter."
Remove your card when the transaction is approved.
Lift the nozzle from the pump and place it into your car's gas tank opening.
Choose the grade of fuel you want.
Start pumping
Stop the pump when you reach the desired amount of gas you want or let the pump stop itself when your tank is full.
Remove the pump from your gas tank and place the nozzle back into the gas pump.
Choose whether or not you want a receipt when the pump prompts you.
Take your receipt (if you asked for one) and leave.
Note that some pumps will ask you to quickly insert then remove your card, then ask you for your PIN. Other pumps will ask that you leave the card inserted while you enter your PIN.
If you have fuel points you've earned using a grocery store loyalty program, for example, your process for getting your fuel will be a little different. You will need to insert your loyalty card or enter your card number into the pump at some point.
If you visit a Kroger fuel center, for example, before you can begin your transaction, you'll be asked if you're a Kroger customer. Choose "Yes." You'll then be asked to scan your loyalty card. Once you do that, you'll be given options regarding how many points you want to redeem this visit. Make your choice.
Once you've finished this process, continue with the process for using your debit card.