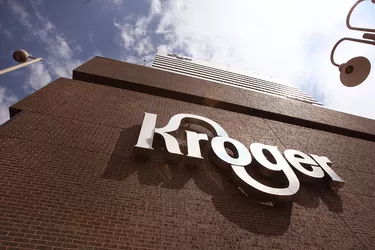 In November 2021, U.S. Bank announced an upgraded Kroger Rewards card that provides more benefits than the ones already offered. Their Kroger Rewards World Elite Mastercard now lets cardmembers save ​25 cents a gallon​ on fuel at 1,500 Kroger-owned gas stations. Besides that, this card also earns rewards like ​5 percent cash back​ for mobile wallet purchases, ​2 percent back​ inside Kroger stores and ​1 percent back​ everywhere else. It's an excellent way to save money on Kroger fuel and groceries, and the company also offers other ways to save their customers money.
A Kroger Shopper's Card is not the same as a Kroger credit card. The writers of Kroger Money Services explain that the shopper's card lets you load digital coupons and saves you ​10 cents​ on money orders and your utility bill payments, plus ​50 cents​ when using debit cards and cashing checks. The company also sends many emails with special promotions and offers to their Shopper's Card cardholders. These promotions range from deals on particular items in their stores to additional rewards available.
There's also the Kroger Rewards Debit Card; this is also not a credit card, as it's more of a rewards and check card that you can use. It provides ​2 percent off​ Kroger's Quality Brands plus ​50 percent​ more fuel points. This debit card doesn't have an annual fee, and you don't need to complete an ID verification or a credit check to get one. It just has to be linked to a payment source like a checking account.
To apply for any of these cards, you'll need to go to the Kroger website and create an account. Each time you use them, points will accumulate. There's no limit to how many you can earn, but they expire the last day of the month after you earn them. For example, all the points you might earn in September would expire on October 31. Look at the bottom of all of your receipts or log in to your account to check your Kroger gas card balance.
You can redeem as much as ​1,000 Fuel Points​ for ​$1 off​ per gallon at Kroger Fuel Centers. They're redeemable in ​100 point increments​, with a limit of ​35 gallons​ of unleaded, mid-grade, premium, E85 or diesel gas. At Shell stations (participating ones), you can redeem ​100 of your Fuel Points​ for ​10 cents off​ a gallon. You can also choose the balance you want to redeem the points from, but only at Kroger Fuel Centers. To redeem your points at the pump, enter your alt-id or scan your Shopper's Card; follow the prompts shown on the screen.
Can You Use Kroger Gift Cards on Gas?
Kroger gift cards can be bought in their stores or online in many different increments, from ​$10 to $250​. You can use these gift cards with Kroger shopping cards to earn fuel points, but they are not eligible for 2X or 4X fuel rewards. You can use these gift cards to purchase gas at Kroger gas stations and participating Shell stations, too. This means that you can use the gift card to purchase groceries and gas, but you won't be earning the higher fuel rewards you get with the gas card.
To activate a Kroger gift card, visit their website and enter the 11 or 12-digit UPC number that you see on the back of the card. Then, enter the card's barcode and your email address. You may also need to enter your billing information. If you are having problems redeeming a Kroger gift card, call their customer service department at 1-866-544-8062.