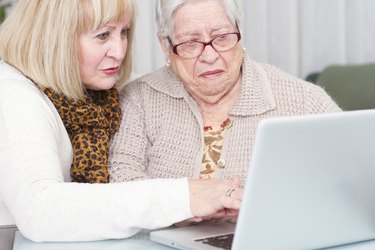 Meijer, the 24-hour retail supercenter with locations mostly in the Midwest states, offers retirement benefits to its eligible employees. After reaching the appropriate age and accruing the required number of service hours, employees may file to receive retirement benefits. While current employees access the MyInfo portal remotely or through worksite computers to view and manage their benefits online, Meijer provides different resources for retirement inquiries and activity.
Meijer Retirement
Meijer employees are eligible for retirement and a pension payment after 10 years of continuous employment at age 55 or after five years of continuous employment at age 65. Continuous employment means no break in service during the qualifying period. Employees and retirees may use the company's online portal that is designated for retirement issues or contact the call center.
Meijer Rewards
Employees and retirees log in to the Meijer Rewards website to file for retirement and to manage retirement benefits. The site requires you to register as a new user by entering the last four digits of your Social Security number and your date of birth to verify your identity, after which you create a user name and password. After logging into the Meijer Rewards site, view the company's Retirement Guide located in the Knowledge Center under Retirement Planning. Use the guide for detailed, current instructions for filing for retirement.
Service Center
You may also call the Meijer Rewards Service Center at 866-681-6116 and speak to a representative. Service center representatives answer questions about filing for retirement, explain the company's retirement plans and assist callers with accessing and using the Meijer Rewards site. The representative will ask for your Meijer Rewards user name and password. Service center hours are Monday through Friday, 8:30 a.m. to 6:30 p.m., Eastern Standard Time.
Meijer 401(k) Retirement Savings Account
Meijer employees also may choose to participate in the company's 401(k) retirement savings plan, which is separate from the pension plan, by contributing through payroll deduction. Call the Meijer Rewards Service Center to ask about your 401(k) account if your funds remain in Meijer's plan. Representatives can explain your options for use of your retirement funds after you retire and the process for removing the funds from the Meijer plan. Once the funds are removed from the Meijer 401(k) plan, call the Personal Finance Center at 866-437-3375 for assistance with managing your retirement funds.