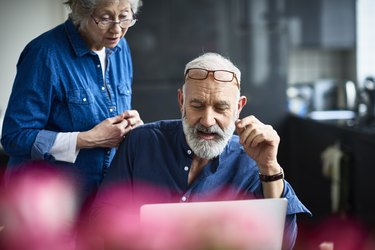 Family-owned Meijer is a superstore chain with 204 locations in the Midwest, retailing groceries, fashion, health and beauty care and more. Those who work for the company enjoy Meijer employee benefits like a health plan, a credit union and a 401(k). You can find the specifics in the Meijer Employee Handbook 2021 and online, but you'll have to be an employee to get all the specifics.
If you look at the benefits listed by the writers at Meijer Careers, you'll see that the company offers a lot of benefits, including medical, dental and vision insurance, along with a Be Healthy Wellness Program. Along with these programs and insurance, there are many other perks, including paid time off, child and eldercare support and paid parental leave. In addition, there's the Meijer 401(k) plan, flexible spending accounts, life insurance, short- and long-term disability, adoption assistance and scholarships.
That's not all, though; they also offer a program called Education Access. This program encourages continual growth by allowing team members to complete their high school diplomas or bachelor's degrees with no out-of-pocket expenses. Meijer also has other education-based perks, including a tuition reimbursement program for specific degree programs, free tutoring through Care.com and support resources for education counseling. Finally, they also have well-received employee training and leadership development programs and retirement benefits.
Meijer Employee Phone Number
In a separate location, the writers of Meijer's Team Member website provide the main number for Meijer benefits customer service, which is 1-866-681-6116. Their employee benefits program is named Meijer Rewards, and team members can log in on that webpage or with Alight Mobile. These are the resources employees use to check their Meijer employee retirement benefits or file for retirement. Meijer also provides a retirement guide online, under their Retirement Planning section's Knowledge Center. This resource can help employees better understand their retirement options.
Employees may qualify for retirement and pension payments once they turn 55 and have 10 years of continuous employment or after turning 65 with five years of continuous employment. If you need information about your Meijer 401(k) plan, you can call that same number. Once you retire, you can call their Personal Finance Center at 866-437-3375. These representatives will be able to help you with your options.
MPerks is Meijer's customer rewards program, and it has an app you can use in and out of their stores. Qualifying purchases earn you ​two percent​ or more back in rewards. The only thing you need to do to gain these rewards is enter your mPerks ID each time you check out. You can check the app to see how much you've earned; for example, their website shows an example that lets a customer know that they will earn ​$6​ after spending ​$300​ or more in total.
You can also earn mPerks from home delivery and pickups, and they also offer digital coupons that you can redeem. Meijer pharmacy rewards work in conjunction with this program; they keep track of your filled prescriptions, and once you complete five, you can pick a reward to use anywhere in the store. Shop and enter your mPerks ID every time you check out, track your progress and get rewarded.
This customer rewards program also shares special offers like 10 percent off general merchandise, $5 off a $50 purchase and other deals. The app is also great for managing your rewards and coupons and tracking all of your savings. You can also look at receipts, locate products and put together shopping lists before heading out to your local Meijer store.