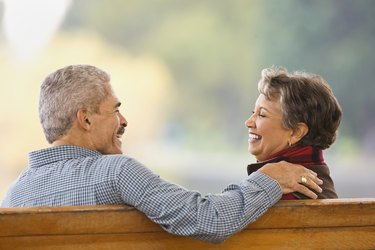 The Hospital Corporation of America, with corporate headquarters in Nashville, Tennessee, operates hospitals, outpatient clinics, freestanding surgery centers and other patient service facilities in 20 states and England. As of the date of publication, HCA employs approximately 204,000 workers and offers retirement benefits in the form of matching contributions to a 401(k) plan.
Beginning Contributions
The HCA 401(k) Plan allows employees to contribute to the plan from before-tax earnings within Internal Revenue Service limits, which sometimes change. Employees over the age of 50 are also allowed to contribute "catch-up" amounts within IRS limits. Eligible new employees are automatically enrolled into the plan after two months of service to the company. Contribution amounts begin at 3 percent of salary or wages and increase 1 percentage point each new calendar year up to 15 percent, unless the employee chooses otherwise.
Employer Matches
HCA affiliated facilities match 100 percent of an employee's contribution that ranges in the 3 percent to 9 percent of wages or salary bracket. For example, employees with zero to four years of vesting service can receive 100 percent of up to 3 percent of salary. From five to nine years of service, the employer's contribution is 100 percent of 4 percent of the employee's pay. The employer's matching contribution continues to increase 1 percentage point in four-year increments up to year 25. After 25 or more years of service, the facility contributes 100 percent of 9 percent of salary or wages.
Vesting Process
HCA employees are 100 vested in personal contributions made to the HCA 401(k) Plan, beginning with the first payroll deduction, meaning they retain ownership of the funds taken directly from payroll. Becoming fully vested in employer matching contributions takes place on a graduated scale. One year of vesting service requires 1,000 hours on the job. After two years of service, the employee becomes 20 percent vested in matching contributions. This increases in 20 percent increments for each year of service. At the end of the sixth year of employment, the employee is 100 percent vested in the matching contributions.
Exception Examples
Not all HCA employees are automatically eligible for the 401(k) retirement benefit. For example, employees of HCA affiliated facilities that choose not to participate in the plan are not eligible to enroll in the company's 401(k). Leased and temporary employees, as well as those under age 18, also are ineligible for enrollment.