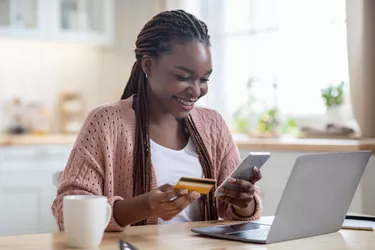 Beginning in July 2021, Old Navy combined its credit card and rewards program into one promotional program. The program now includes the Navyist, Gap Visa Signature card and Old Navy Card, all under Navyist Rewards. Your membership will also allow you to shop across other related brand rewards programs, including those for Banana Republic, Gap, Old Navy or Athleta.
To earn points, you can use a Gap credit card to make brand-related or outside-of-brand purchases, or you can use your member account information when logging in to brand-related websites or making in-store purchases.
When you make in-store purchases, you must enter your phone number to get your rewards. If you shop online at the following websites, you earn points if you are logged in to the site(s) with the email account associated with your reward points.
Athleta.com
Bananarepublic.com
Bananarepublicfactory.com
Gap.com
Gapfactory.com
Oldnavy.com
You will earn 5 points in rewards for every ​$1​ in brand-related purchases you put on a Gap, Inc. credit card, and 1 point per ​$1​ spent on non-brand purchases. Gap Visa Signature cardmembers earn 2 points for each ​$1​ spent on brand-family items and ​$1​ on out-of-brand purchases. Rewards program members who use another payment method earn 1 point for every ​$1​ spent on brand-related purchases (if they enter their account information during the transaction).
For every 100 points you earn, you get ​$1​ in rewards. Your points expire after 12 months if you don't make at least one qualifying purchase after you earn the points.
If you have other, authorized users on your card account, you will earn rewards points when they make purchases. If you have any problems or questions about the program, you can call the Old Navy Rewards phone number and speak to a customer service rep at 800-OLD-NAVY (​800-653-6289​).
The Old Navy Rewards program features three different levels of membership:
​Core​ – Spend less than $500 per year on program brand items
​Enthusiast​ – Credit card members start at this level, then spend $500 to $999 during the year
​Icon​ – Card members with 5,000 cardmember points or $1,000 in annual purchases (Gap Visa cardmembers start at this level)
It takes 14 days for your rewards points to become active, allowing you to use/redeem them. Your rewards are redeemable in 100-point increments. According to the Old Navy FAQ page, you can redeem your points using the phone number and/or email address associated with your account.
You will use your phone number when you wish to redeem rewards during an in-store checkout, and you'll use your email address when you want to use your points to make online purchases.
To check your points amount, you can log in to your account at the rewards program website. You will log in using your email address. You cannot trade or redeem your rewards points to pay any part of your branded credit card balance.
When you make $50 or more in online purchases at an in-brand website, you'll get free shipping. Program members and Icon-level cardmembers get free two- to three-day shipping. Members and Core- and Enthusiast-level cardmembers get free three- to five-day shipping. Icon-level members also get free alterations on items purchased at Banana Republic. You can view all of your benefits by logging into your account.