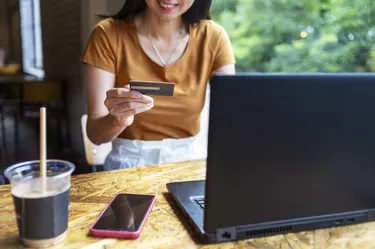 Old Navy was founded in 1994 in San Francisco, California. The company features over 1,100 physical stores across the globe and attracts an astounding 4 million customers each year to its website. Since Old Navy sells affordable clothes for everyone in the family in 201 different sizes, including specialty sizes like petite, tall and plus size, there is a high likelihood that you'll find what you need when you visit. If you find that you enjoy shopping at Old Navy, you'll want to sign up for their store credit card to take advantage of some big savings. Once the card arrives, you'll need to know how to activate it.
Old Navy credit cards are issued by Synchrony Bank. If you receive a card with the Visa logo, you can also use the card anywhere Visa is accepted. If it doesn't have the logo, you can use the cards at any Gap Inc. brand store, such as Old Navy, Banana Republic, Gap and Athleta. The cards have no annual fee and, at the time of this publication, the variable purchase APR was 25.99 percent. The minimum interest charge for the card is $2. You can apply directly on the company's website. Be prepared to enter your name, address, email address, Social Security number, date of birth and annual net income. Once your card is approved, you can expect it to arrive within seven to 10 business days.
There are quite a number of perks associated with your Old Navy Credit Card. For starters, the company offers a 20 percent discount on your first purchase. Additional benefits include:
500 points for signing up for emails
500 points for going paperless
5 points for every $1 spent on Gap Inc. brands
1 point for every $1 spent outside Gap Inc.
20 percent bonus each quarter
Early access to sales
Special promotions throughout the year
Zero fraud liability
For every 500 points earned, Old Navy will present you with a $5 reward that can be used at any of the Gap Inc. brand stores or websites.
To activate your new Old Navy Credit Card, head to the company's website and scroll to the bottom of the page. Click on the link that says "Activate Card" under the "Old Navy Credit Cards" heading. That will take you to the activation page, which requires you to enter your credit card number, three-digit security code and the last four digits of your Social Security number in the provided boxes. Once you've finished, click the blue "Activate My Card" button and you're all set.
When your Old Navy Credit Card arrives, it will come with a sticker across the front. This sticker will have an activation phone number you can call. At the time of this publication, Old Navy lists that number as 866-450-8389. Once you call, the automated system will guide you through entering your phone number, three-digit security code and the last four digits of your Social Security number. The system will then let you know that your card is activated and ready for use.
Once you use your Old Navy Credit Card, you'll want to register the card so you can check your balance and pay your bill online. On the login page, you do have the option of making a payment as a guest; however, you won't be able to view your account transactions and rewards. It's best to go ahead and register the card by clicking the red "Register" link and then filling out your card number and zip code. From there, you'll be able to create a username and password that you can use to access your account at any time.