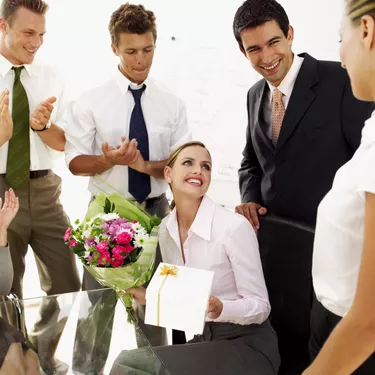 Amazon's "Print a Gift Card" service offers instantly printable gift certificates that can be used to buy anything on the website. Because of the speed and simplicity of the purchase process, self-printed Amazon gift cards can be a convenient way to reward employee achievements or thank special business clients. Considering the wide variety of products available through Amazon, such gift cards are more personal than cash — but flexible enough that most recipients will have no problem finding something to buy with their card.
The Process
To obtain a printable Amazon gift card, visit the Amazon home page and click the "Gift Cards" link above the search bar. Choose "Print Cards" from the options presented and select a design to customize the card. If you wish to purchase multiple gift cards of the same denomination and with the same message, simply change the quantity. When finished customizing, add the card(s) to your Amazon basket and check out. All printable gift cards will be available to print immediately after payment has been collected.
Printing
When the "Print at Home" option is selected for an Amazon gift card, the card is created as a PDF, which can be accessed from the order confirmation email or the order summary section of the account page. To open and print a card, Adobe Reader must be installed on the computer.
Reprinting
If a gift card is lost or an error is encountered during printing, it can be reprinted as many times as needed; simply revisit the link included in the confirmation email and reprint. Once the recipient uses the gift card, however, it can no longer be reprinted.
Redeeming
To redeem a printable gift card, a recipient need only log in to his Amazon account, click "Apply a Gift Certificate/Card to Your Account" and enter the code printed on the card. The funds will be applied to the account and used toward future orders. Note that Amazon gift cards cannot be used on any of the Amazon websites outside of the the United States.
Volume Discount
Companies that purchase at least $5,000 worth of gift cards per year may be eligible for volume discounts through the Amazon corporate gift card program.