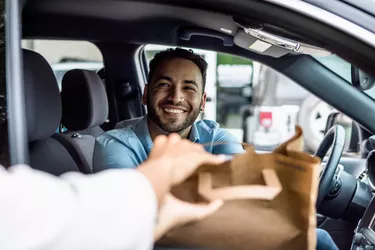 If you're looking for a good deal on your meal at Burger King, there are many places to look for a Burger King promotion or coupons. The best places online to search for Burger King deals are through Burger King itself, either their website or the smartphone mobile app. Be aware that you will need to create an account to use either of them, including turning over personal contact information.
For more great deals, there are other spots to check for BK coupons, such as Royal Perks, BK's loyalty rewards program. One important note: not every location offers all coupons, promotions and deals. Check exclusions or call or visit your local restaurant to find out for sure.
Burger King Deals on the Website
Burger King's website and mobile app are the best places to go if you're looking for BK coupons and deals. On Burger King's website, select offers and then use the search bar to find the location you want to visit. Once you've selected it, one of the menu options should be "Offers." Click that button, and all available promotions and deals will display on the screen. You should also be able to view that location's specific menu selections and find various Burger King prices.
At the time of writing, there were several great deals available, such as ​20 percent off​ any order of ​$1 or more​, $3 Whopper or Impossible Whopper, $1 large onion rings or french fries and several others that are certainly worth checking out for anyone visiting a Burger King soon. Even if these coupons are no longer available, you will find similar savings at any given time.
BK Coupons 2022 on the Mobile App
To download the mobile app onto your smartphone, go to your phone's app store and search Burger King. Look for the official logo to make sure you download the correct one. Once you have downloaded it, you will be able to open it and create your account. This account is required to use most in-app features, including promotions.
One of the nice things about the mobile app is that it will locate the nearest BK restaurant for you and give you all available coupons and deals available there if you have a craving. The app will also prompt you to join Royal Perks, their rewards program. The more you eat and spend at Burger King, the more rewards you'll earn, opening up deals and promotions, including free food.
Many BK restaurants are franchises, meaning that individual owners can offer their own promotions locally within their communities. It's a good way for them to compete and get more business. However, you'll most likely need to visit in person to order; you'll find the Burger King app not working for those deals.
Other Places to Find Burger King Coupon Codes
Sometimes, discount sites and coupon code collectors will have BK coupons. However, it's worth noting that many of these sites have user-submitted coupon codes, which means that some of them on the site may be expired or fraudulent. Proceed with caution and don't click anything that looks suspicious.
Third-party food delivery services also work with restaurants, especially chains like Burger King, to offer promotions. Check DoorDash, Grubhub, Uber Eats and any others you use for these deals. If you're in the area or hoping to dine in, most are available for pick-up orders as well, if you'd prefer to drive yourself instead of having it delivered.
Finally, the last place to look is a bit old-fashioned but often just as effective. Look for Burger King coupons in newspapers, coupon booklets and other places where local discounts are offered. Many booklets like these are automatically mailed out to everyone in an area, so it's worth checking instead of throwing them away next time.