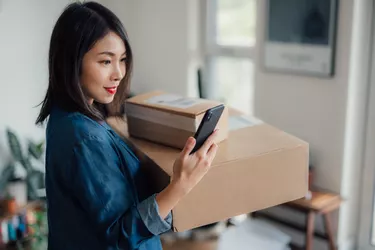 If you have a PayPal account, you get access to features that make it easy to shop at stores that accept PayPal and add and remove cash from your account balance. While you can take advantage of your PayPal account to easily shop at Walmart online without any further action, you'll need to go through an extra step to get a PayPal Cash Card to make brick-and-mortar purchases. You can also withdraw and deposit money to your PayPal account through a few other options at Walmart.
Using PayPal at Walmart Online
If you want to shop at Walmart using PayPal directly and not need to worry about withdrawing funds first or requesting a PayPal Cash Card, then you can buy items through the Walmart mobile app and Walmart.com. Walmart.com is among the many stores that accept PayPal as a payment method alongside options like Walmart gift cards, credit cards and Affirm financing. However, keep in mind that this payment option won't allow you to use PayPal with another payment method in the same transaction.
Whether you use the website or app, you can shop as you normally would and add all the items to your cart for the transaction. Once you're done, access your Walmart shopping cart and select the "Check Out" option. You can sign in or check out as a guest, and you'll select a delivery method and enter or confirm contact details before selecting a payment method.
You'll find the option to pay using PayPal if you locate the "+More" payment option and then select the PayPal logo. You'll log in to your PayPal account, confirm the payment method to use and then return to Walmart's app or website to finalize the transaction.
For the most flexibility using your PayPal balance to make purchases both at local Walmart stores and through the online platform, you can request a PayPal Cash Card which serves as a debit card with the Mastercard logo. First, you'll need to make sure you meet the criteria for getting this card, such as needing to have a PayPal account in good standing and with confirmed personal details like your Social Security number, phone number, address and birth date. Then, you can visit the website's page for the card, locate the button to request the card and then log in to PayPal to complete the application process.
Once you receive your PayPal Cash Card, you can use it at Walmart as you would any other debit or credit card. For example, you can swipe the card at a self-checkout station or staffed checkout lane, and you can enter the card details on the Walmart website and app. You can also tell a cashier that you want to add money to your PayPal Cash card for a fee of $3. Further, you can simply go to an ATM in a Walmart store to withdraw money, although you'll need to keep ATM fees in mind if you do so.
When using your PayPal Cash Card, keep in mind that the only funds accessible to you are those in your PayPal cash balance. So, you don't have any backup payment option to use a bank account or card like you would with shopping using PayPal at Walmart online. So, you should closely track your PayPal cash balance to avoid declined charges.
Exploring Other Walmart PayPal Options
Since 2018, PayPal and Walmart have teamed up to allow customers to perform PayPal transactions at the customer service desk or Walmart Money Services desk. For a fee of $3, you can both take cash out of your PayPal account (up to $500 daily, $3,500 monthly) or make a deposit (from $20 to $500). To take advantage of this additional Walmart PayPal option, you'll need to download the PayPal app on your phone and log in.
When you head to the front desk, you can go to your PayPal app's "More" section and find options to both "Add Cash" and "Get Cash." If you're adding cash, you'll just need to choose Walmart from the merchant list and then get a code generated that you can show to a worker as you hand them the money. If you're taking money out, you'll have to choose an amount and then will see a code you can show to a Walmart worker.