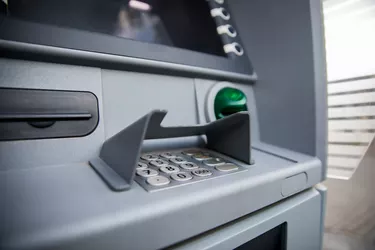 Along with using your Green Dot prepaid card for making regular purchases, you can use it at an ATM as you would a regular debit card and make certain types of transactions. While Green Dot doesn't allow you to reload the card at an ATM, you can check your balance and withdraw some cash. To use a Green Dot ATM, you'll need to bring your card, know your personal identification number and prepare for any fees that you'll be charged. Depending on the card you have, you may avoid some additional costs if you locate and use an in-network Green Dot ATM.
Understanding ATM Fees and Surcharges
Before using any ATM, you'll want to check with your Green Dot card's agreement to learn about the fees you may need to pay depending on the type of card you have and which ATM location you use.
For example, the Green Dot Load and Go Prepaid Visa charges you $2.50 for a withdrawal and $0.50 for a balance inquiry regardless of whether you use an in-network or out-of-network ATM. However, other cards like the Green Dot TaxSlayer Prepaid Visa and Green Dot Unlimited Visa let you make these transactions for free at in-network locations and charge varying fees for transactions at other locations. For example, the out-of-network withdrawal fee is $3 for the Green Dot Unlimited Visa and $2.50 for the Green Dot TaxSlayer Visa.
Keep in mind that out-of-network ATMs usually also charge an additional operator fee on top of the Green Dot transaction fees. The ATM should display this for you to see beforehand.
Finding a Green Dot ATM
Choosing an in-network ATM can help you avoid some fees when using your Green Dot card. To find these locations, you'll first need to download the Green Dot banking app for iPhone or Android. You can then find the login option at the bottom of the app's screen and then tap the "ATM & Cash Deposit Map" option on the home screen. You can search by location, select "ATM" only for the filter and then see in-network Green Dot ATM locations on the map.
If you need money quickly and don't have an in-network Green Dot ATM nearby, you can use another ATM you might find at a grocery store, convenience store or other location. However, do keep in mind that you'll need to consider the fees you'll have to pay.
Using the ATM for Transactions
When you arrive at the ATM, you'll need to first insert your Green Dot card and type the personal identification number you've created when you registered your card. The ATM may have you select your language to continue. Once you've logged on to the system, you'll see options to check your balance or withdraw money, but you can't deposit money to the Green Dot card through an ATM.
To check your balance, you'll simply press the balance inquiry option to see the current amount you have on your card. To withdraw cash, you may see a few options to do a quick withdrawal using preset amounts (such as $50, $100, $250, etc.) or enter a custom amount up to the limit that the ATM has set. The ATM will dispense your cash and ask if you want a receipt for your records.
After you've finished the ATM transactions with your Green Dot card, choose the ATM's option to end the session and then grab your card once the ATM releases it.
Considering Alternative Account Management Options
You can use the Green Dot app and website to handle several types of transactions and avoid ATM fees. For example, you can reload your card using your bank account, see your balance and even transfer money to others. You can also use the app to deposit checks and save yourself a trip to a bank to cash them.
If you need to deposit money, Green Dot has some other options too. You can simply visit a participating retailer like Kroger, Walmart or 7-Eleven and reload right at the cash register. Green Dot also sells MoneyPak cards at certain retailers, and you can use these to add funds. Do check your cardholder agreement since these options can come with service fees for each reload.