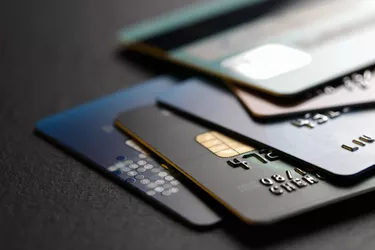 Green Dot issues a variety of prepaid debit cards that you might purchase at a local store or obtain through a tax preparer as an alternative to direct deposit for your refund. These cards can come with fees for things like inactivity, ATM transactions and monthly maintenance alongside any money spent for purchases or withdrawals. So, you'll want to closely track your balance and reload your card as needed. You can easily check your Green Dot card balance for free through the company's website, app, automated phone system or text alerts as well as visiting a local ATM for a fee.
Getting a Green Dot Account
To easily check your balance and manage your Green Dot card through the company's app and online, you need an online account. If you don't already have one, visit the Green Dot website and click the "Log In" button to access the "Account Login" page. You'll find a "Create Online User ID" link to set up an account. Alternatively, you can find a "Create One Now" option on the home screen of the Green Dot mobile app.
When you access the account creation form, you'll first need to enter your card's number, security code and expiration date. Follow the steps to provide your birth date, zip code and your Social Security number's last four digits. You'll then get prompted to set up your account credentials, provide your email address and choose security questions.
Green Dot will ask you to make sure your account information looks correct. You can confirm and get ready to manage your account online.
Checking Through the Website and App
Once you have your Green Dot login information, you can log in to the website and see your card balance immediately and prominently on the page. You can also scroll through recent transactions to see purchases, deposits and fees you've incurred. Green Dot makes it easy to switch between periods and filter transactions by type as well. You'll also find a link to report any transactions that don't look right.
If you want a convenient way to check your balance on your phone, you can download the Green Dot - Mobile Banking app through Google Play or the Apple App Store. As with the website, you can log in and immediately see your balance and account history. However, the mobile app has a "Slide for Balance" option that lets you see your balance without signing in. The first time you try this, you'll see a prompt to enable the feature and will need to log in once for security purposes.
Checking Balance by Phone
Another option you have involves sending a text message to the Green Dot short code, which is 43411. You can simply send a message saying "BAL" followed by your card's last four digits to get a message with the balance immediately. You can follow up with "HIST" followed by your card's last four digits for transaction information. Keep in mind that you'll need to have set up your mobile number in your Green Dot online account before you can use the text option.
When you want to get your balance without making a Green Dot online account, you can dial 866-795-7597 to access the automated system. You'll press "2" to proceed and need to enter either your Social Security number or card number to look up your account. You'll then get a prompt for your birth date and will need to confirm it by pressing "1." Once the system has found your account, you'll get prompts to take actions such as get your current balance.
Checking Your Balance at an ATM
If you don't mind paying a fee, you can find a nearby ATM that you can visit and check your Green Dot card balance or withdraw money. You'll need to have both your card and personal identification number handy. Before doing a balance inquiry, check with your card's documents online to see which fees will apply.
Keep in mind that the ATM owner may also charge you another surcharge, so using the other balance methods mentioned can save you some cash and offer more convenience.