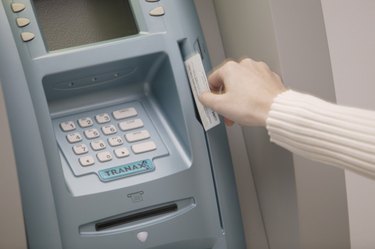 Chase credit and debit card holders have the option to use their card to retrieve funds from ATMs all over the world. If you are not near a Chase bank or a Chase ATM you can use your card at any other ATM, including those from Bank of America. As long as you have the funds available in your account you can withdraw them with your Chase card at a Bank of America ATM by paying a small fee, which Bank of America charges to all non-Bank of America cardholders that use a Bank of America ATM.
Step 1
Go to any Bank of America ATM to withdraw money from your Chase account. Insert your Chase card into the ATM and enter your PIN on the ATM keypad.
Step 2
Read the instructions as they appear on the ATM and make the selections required as you are instructed to do so. You must choose the type of feature you want to use, such as making a withdrawal or a balance inquiry.
Step 3
Accept the fees charged by both Bank of America and Chase for using the ATM. As of May 2011, both banks charge a $2 fee -- Bank of America for using a foreign card and Chase for using a foreign ATM. Chase charges $5 for using ATMs in foreign countries. Your funds will appear along with a receipt once your transaction is processed. Take your cash and your receipt.