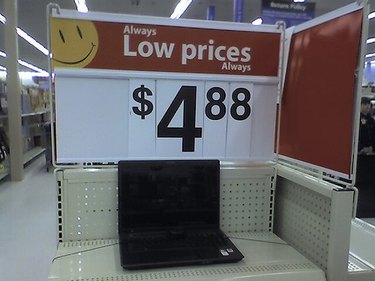 Sam Walton opened the first Walmart in Rogers, Arkansas in 1962. Since then, Walmart has become the largest retail operation in the world while offering benefits to all.
Convenience
Walmart thrives on offering convenient opportunities to its customers through its well organized facilities. In addition to its product, Walmart offers convenient services such as Tire and Lube, walk-in medical clinics and money centers.
Low Price
EDLC, everyday low cost, is one of the many mottos adopted by the Walmart Corporation. Walmart stands by its mission to offer low cost to its customers in order to earn repeat business.
Quality Product
In recent years, Walmart has made deals with top designers and artists to sell and promote their merchandise. Some famous deals include artists such as Metallica and ACDC.
Community Outreach
Along with being a retailing giant, Walmart prides itself in giving back to the community whether it be by sending trucks and volunteers to assist during Hurricane Katrina or offering college scholarships to high school graduates.
Job Security
During the current economic crunch, Walmart has been one of the few employers to actually offer jobs instead of cutting them. Those working for Walmart have a strong sense of job security, because it's obvious that this company isn't going anywhere soon.