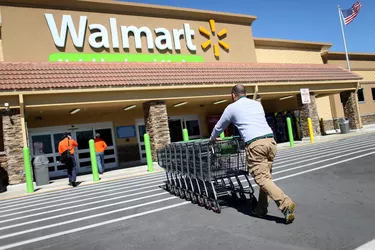 If you shop at Wal-Mart, the Wal-Mart credit card or Wal-Mart MasterCard give you benefits like special financing on Wal-Mart purchases. The Wal-Mart credit card is good only for something you buy from Wal-Mart. The Wal-Mart MasterCard is good anywhere MasterCard is accepted. You can apply for one online or in the store.
To apply for the Wal-Mart store card or MasterCard, click on the "Apply Now" link on the Wal-Mart MoneyCenter website. The website will prompt you to log into your Wal-Mart account if you have one, or create a new one if you don't. Once signed in, enter your name, address, phone number and email address into the application. You'll have to list your yearly income and monthly mortgage or rent payments, whether you rent or own, and how long you've lived at your current residence. Wal-Mart also asks for your date of birth, Social Security number, mother's maiden name and driver's license number as part of its credit check.
You can apply at any Wal-Mart register with a government-issued ID and current credit card. If you do not have a credit card, you can apply for credit through the Wal-Mart jewelry department. If you're approved, you'll get a temporary card to use for 24 hours in that store only. Your ID serves as your credit card number until you get your regular card.
Depending on your credit history and score, you may receive instant approval for either card. If you apply for the Wal-Mart MasterCard and are denied, you still may get approval for the Wal-Mart credit card. If you apply online, you get a $25 statement credit if you make a $75 purchase the same day you receive approval.