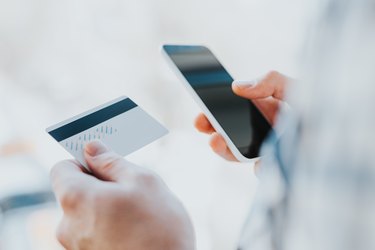 A prepaid credit card can be an attractive alternative to carrying cash -- it makes purchasing items and paying bills a simple and quick process, and keeps you from having to keep track of cash in your wallet or purse. Prepaid credit cards can typically be used to make purchases from any business that accepts traditional credit cards. A variety of companies offer prepaid credit cards online; however, not all companies allow you to use an eCheck to fund these cards.
Rationale
Unlike traditional credit cards, prepaid credit cards are not designed to finance your purchase -- you must have the money available in your account, rather than borrowing it from the financial institution when you make purchases or pay bills. Because funds from an eCheck are not immediately withdrawn from your bank account, the company providing the prepaid credit card cannot verify that the funds will be available when the eCheck is presented to your bank. This means that you could potentially spend down the account balance on a prepaid card before the eCheck is returned by your bank for insufficient funds.
Holds on eChecks
Companies that allow you to fund a prepaid credit card with a paper check or eCheck typically do not make the funds available immediately. Instead, they impose a waiting period, usually up to 10 business days, to ensure that the check or eCheck clears your bank. After the expiration of the hold period, the funds become available in your prepaid account as long as the eCheck has not been dishonored by your bank.
Other Payment Options
Companies that issue prepaid credit cards typically accept cash as a method of loading funds onto your card. If you are ordering or funding a prepaid credit card online, you may take cash to a wiring service such as Western Union or MoneyGram to fund your card. Direct deposit from payroll or government organizations, bank account transfer and online payment services such as Paypal and Netspend are also commonly accepted forms of payment.
Benefits
Aside from reducing your need for cash, prepaid credit cards may provide other benefits. Because they are not true credit cards, you don't have to worry about paying interest or fees on the purchases you make. They also do not affect your debt ratio, which can be important if you plan to finance a car or home.