PayPal isn't just for making purchases online. It also offers a secure and convenient way to pay bills and invoices online. The easiest way to pay bills online is with a PayPal debit card. To save time, you can set up automatic payments. If you don't have the funds in your bank account, you can still pay bills with PayPal Smart Connect.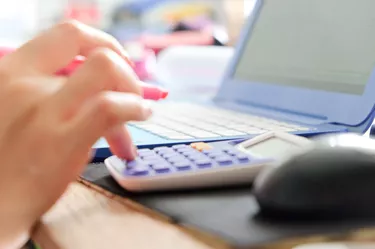 Sign up for a PayPal Debit Card
PayPal offers several options for paying your bills online, though the simplest way is to sign up for a PayPal Cash debit card. The card is free and lets you use your PayPal balance similar to how your bank's debit card allows you to use your bank account balance to pay bills. You can even deposit checks to your account using a smartphone app. PayPal will issue you a debit card along with a PIN within a few days once your account has been verified.
Paying Bills and Invoices with PayPal
Many companies let you pay your bills on their websites with your debit card. Again, you can use your PayPal debit card just like you would a regular debit card. To make bill payment more convenient, sign up for automatic bill payment. With automatic bill payment, you input your card information, your debit card is kept on file and the amount of the bill is automatically withdrawn from your PayPal balance each month. Otherwise, many companies let you make one-time payments with your PayPal debit card. If the company doesn't have a website, you might be able to use your PayPal debit card to pay bills at physical payment centers or over the phone. In cases where you need to use a third-party e-pay company to pay bills, you might face a convenience fee for payments made on your PayPal debit card.
Limits on Spending
If you don't have the funds in your PayPal account to cover a bill or invoice, you won't be able to make a purchase with your PayPal debit card until you load money onto the account through direct deposit, a bank account transfer, a check deposit or a cash deposit at a store that accepts it. You're also limited to $3,000 in purchases and $400 in cash withdrawals per day.
PayPal Credit
Separate from its debit cards, PayPal also offers a PayPal Credit option for making certain purchases. Similar to a credit card, PayPal Credit allows you to avoid interest altogether if you make payments in full within a certain amount of time on purchases of a minimum size, or you can make payments over a longer period of time while accumulating interest. You can get a credit decision within a few seconds before making a purchase.