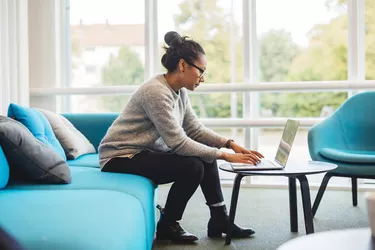 There are a number of ways to make a Bank of America credit card payment. You can pay your credit card balance online through the bank's website or app, call the Bank of America credit card customer service hotline for help, mail in a check or money order or stop by a branch. Choose a method that makes sense for you, taking into account how long it will take to receive the payment and any costs involved, including stamps and online data fees.
Tip
If you have a credit card from the bank, you can pay Bank of America online, over the phone, by postal mail or in a branch.
Bank of America Online Payments
It's often easy to pay your Bank of America credit card online using the bank's website or smartphone app for iPhone or Android.
To pay through the website, visit the Bank of America online banking site and enter your Bank of America login information. Click or tap the "Bill Pay" tab and follow the instructions to set up your credit card number and bank account information if it's not already configured. Note that if your account is at an institution other than Bank of America, you'll need to have your routing number and account number handy. You can find this information by contacting your bank, looking at your checkbook or a statement or often through that bank's online banking system.
If you have already set up bill pay through the Bank of America website, you can also pay bills including your Bank of America credit card through the bank's mobile app. Download the app from the Google Play store or iPhone app store, sign in to the app with your login credentials and tap the "Bill Pay" tab. Select your credit card bill to make a payment.
If you pay online from a Bank of America account, your payment should credit to your account the same day. If you pay through another financial institution's account, it should credit within two business days. Make sure to leave enough time for your account to credit without your payment being overdue.
Mail a Payment
Check the Bank of America website or your billing statement for information about how to mail a payment to the bank. There is a separate address for business accounts and a separate address for overnight delivery payments.
If you do mail a payment, make sure you leave enough time for it to arrive at the bank before your payment is due. Consider another payment method if you don't have enough time to mail in a bill payment to Bank of America.
Pay at a Branch
Another option is to pay your bill in person at a Bank of America branch. Look online to find a branch near you and stop by to pay your bill.
You can also pay your credit card bill at a Bank of America ATM with cash or a check. Make sure to bring your credit card to the ATM in order to access your accounts. Business cards aren't supported.
Pay by Phone
You can also use the Bank of America pay by phone system to pay your credit card bill. Check the bank's website for the appropriate number or call the number on the back of your card. There's no fee to use this service, but you should have your account information handy for your credit card and the bank account you're using to pay.
How Much to Pay
Keep in mind that you may owe interest if you don't pay your credit card bill in full every month. You can also face late fees if you don't pay your bill on time and penalties if you pay less than your minimum required payment by the due date. Late or insufficient payments might also affect your credit report and score.
Make sure you understand all the factors involved when you decide how much, when and how to pay your bill.