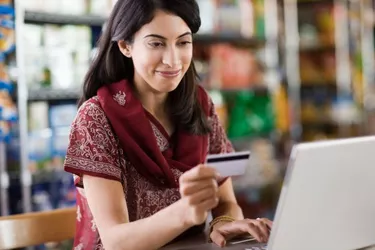 Credit card-type gift cards are versatile and simple to use but not foolproof or problem free. There are some places, like much of eBay, that prefer payment through Paypal. While you may be able to persuade some sellers who use Paypal to use the gift card credit number instead of having you make a Paypal transfer, it's not guaranteed. Transfer your gift card funds into your Paypal account and you'll be able to use your gift card funds to make your Paypal payment.
Step 1
Link your bank account with your Paypal account if you haven't already done so. Log in to your Paypal account and mouse over the "Profile" button near the top. Click on "Add or Edit Bank Account" from the dropdown menu.
Step 2
Fill in your bank information for the account you wish to link with Paypal. Paypal will make two small deposits of under $1 into your account. When you have a bank statement describing these two amounts, log back into your Paypal account and fill in the two amounts. Your bank account will now be linked with your Paypal account.
Step 3
Call your bank or visit your local branch. Tell the bank teller that you wish to transfer a gift card balance into your bank account. The bank will debit the amount from your gift card and credit it to your bank account.
Step 4
Log back into your Paypal account after the money has been transferred to your bank account. Mouse over "Add Funds" at the top of the screen and click on "Add Funds from Bank Account." Make sure that the correct bank name is showing in the dropdown menu. Fill in the amount of money you wish to transfer and click the "Continue" button.
Step 5
Confirm that the amount showing on the next page is correct, then click the "Confirm" button. Your money will be transferred into your Paypal account in a couple of days, depending on how quick your bank is with transfers.
Warning
This method does not work with store gift cards, such as Amazon or Best Buy gift cards. It only works with cards with credit card logos such as Visa and MasterCard.