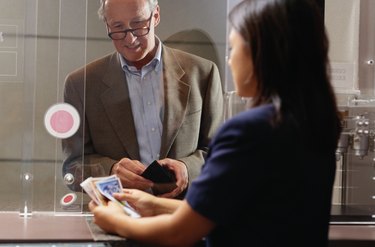 You probably take precautions to ensure that thieves do not break into your business and steal all your cash. In the online world, it's important to use the same diligence when managing money online. PayPal helps keep customer transactions safer by asking people to validate their bank accounts. If you linked your bank to PayPal, you can use the validation process to verify your bank account and begin transferring funds between PayPal and your bank.
Step 1
Log in to PayPal and proceed to the next section if you have already added your bank account to the site.
Step 2
Click "Profile" and then click "My Money." Click the "Update" link next to Bank Accounts to view a list of bank accounts you've added. If you only have one account, you will see one bank.
Step 3
Click the "Confirm" button next to the account you wish to confirm. You will see two text boxes in the Confirm Deposits section. Enter the amounts of the two deposits that PayPal put in your bank in those text boxes and click "Submit" to confirm your account.
You will also see a Confirm Instantly section next to the Confirm Deposits section. You have the option to confirm your account another way by clicking the "Confirm Instantly" button in that section. The Confirm Your Bank Account page opens and asks you to enter the ID and password you use to log in to your online bank. If you choose this method, enter that information and click "Confirm Instantly" to confirm your bank.
Tip
PayPal does not retain your online banking ID and password if you confirm your bank account instantly.