If you have a nice, shiny Visa gift card burning a hole in your pocket, you might want to transfer the money into your bank account for your own convenience. This way, you won't have to worry about carrying an extra piece of plastic in your wallet until you've gone through its full balance. But shifting the balance to your bank account isn't as easy as simply moving the funds from one place to another. The good news is that there are several options, some of which will cost nothing more than a few minutes of your time.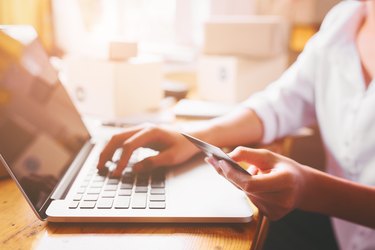 Fee-Based Options
If you have a Square reader, you can just swipe the card like you would any other debit or credit card. If you don't have one, you can get a basic magstripe reader free at signup. After signup, you'll pay 2.75 percent for each swipe, so that will cut into your total, but it's one of the easiest ways to transfer the funds, especially if you already have a Square connected to your bank account. If you don't have a Square reader, you can still download the app and sign up, but you'll pay 3.75 percent if you enter the card information manually.
Another fee-based option is to go through one of the many gift card resellers on the market. Many resellers only accept merchant-branded gift cards, and you still won't get 100 percent value on your card. You have multiple payment options on these sites, including a paper-based check, direct deposit into your bank account and PayPal. This may be the most expensive route, but worth it if you're looking to get rid of the card quickly.
Fee-Free Options
It may require a few extra steps, but you can save on fees by adding your gift card balance to your PayPal wallet. You can then transfer the money to your connected bank account when you're ready. This process may take up to five business days, but there's no charge on the PayPal end of things. Check to make sure your bank doesn't charge a fee for transferring money from PayPal.
Another free way to get the money to your bank account is through Venmo, a mobile payment service that allows you to make and share payments with others. Venmo lets you add Visa gift card balances as long as the transfer isn't blocked for fraud protection reasons. Once the funds are in your account, simply choose "Transfer to Bank" from the account menu. You'll need to be patient for this option since the transfer will usually take between one and three business days.