It can be difficult to remember a time before PayPal — the payment service has been facilitating online payments for nearly two decades. It remains important and efficient for things like peer-to-peer transactions, especially for those who sell on sites like eBay and Etsy. But when you have a balance in your PayPal account along with mounting bills, it can be tempting to use that balance to pay off some of those debts, especially if you don't have a bank account. If you want to put your PayPal balance toward your credit card debt, here are a few things to consider.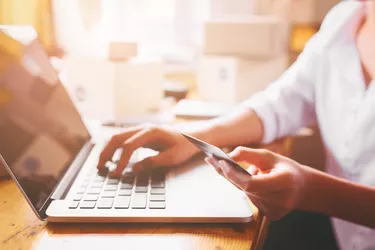 Does Your Creditor Accept It?
Your creditor usually states what types of payments are accepted. In some cases, PayPal will be listed as an option, but not very often. However, even if PayPal isn't an option on your credit card issuer's website, you may be able to use a service like Bill.com to direct the money from your PayPal account to the appropriate financial institution. Be aware that Bill.com charges a 99-cent fee for this service.
The easiest option, provided you have a bank account, may be to simply transfer some or all of your PayPal balance to an account you can then use to pay the bill. PayPal also allows you to transfer directly to some Visa, MasterCard and prepaid cards. You'll pay 25 cents for each transfer. As another option, PayPal will send your funds via postal mail in check form. This takes one to two weeks and costs $1.50 for each check.
Alternative Options
If you plan to regularly pay your bill using your PayPal balance, you might consider opening a PayPal card. PayPal has a Cashback MasterCard, Extras Mastercard, Cash MasterCard, Prepaid MasterCard, along with a digital line of credit. The easiest of these may be the Cash MasterCard, which takes funds directly from your PayPal account, or the Prepaid MasterCard, which lets you transfer money from your balance to use as payment.
PayPal's digital line of credit may not let you pay your credit card bill, but it will give you a way to easily pay for items – with six months to pay before you accrue interest. These alternatives may not be an answer to paying your current credit card balance, but they give you a better way to pay for items using your PayPal funds in the future.
If you regularly have money in your PayPal account, it's important to find a way to easily use that money when you need to. Although not all creditors accept PayPal, there are many other options that can help you move the funds from PayPal to where you need it.