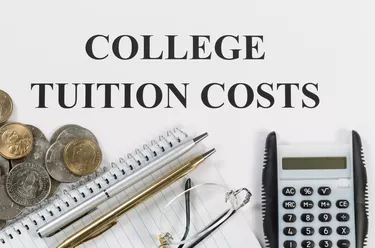 Education financing is a serious issue in the United States, with Americans now owing a combined ​$1.73 trillion​ in student loan debt. Payment options that make it possible to pay as you go can help you avoid interest and ensure you graduate without the burden of student loan repayments. With a tuition payment plan, you pay the cost of education as you go in installments, making it affordable while also reducing your reliance on student loans.
What Are Tuition Payment Plans?
There are multiple ways to pay for college, including ​529​ savings plans, grants and scholarships, work-study programs and federal and private loans. Once you've exhausted all grants and scholarships available, you might turn to loans to cover the rest, but this comes with interest and monthly payments. The other option is a payment plan. These payment plans work by paying for college as you go. With average yearly tuition at more than ​$27,000​, it can be tough to make lump-sum payments, even if they are broking down by month.
Once you've exhausted non-interest financial aid options, tuition payment plans can be the way to go. This may be something you see in your billing statement, not requiring setup at all. But in some cases, you'll need to speak to the financial aid office to set up a payment plan.
Cost of Tuition Payment Plans
Some colleges and universities charge a fee if you choose to pay in monthly installments. The University of Kentucky Installment Payment Plan costs ​$50​ per semester, while Ohio University's fee is ​$30​ per semester. You'll typically need to enroll at the start of each semester and pay the fee to qualify to pay your tuition in installments.
In most cases, you'll want to connect your bank account and pay via e-check or ACH. Most campuses charge a convenience fee for paying tuition by credit card. The University of Virginia charges a fee of ​2.75 percent​ for credit card payments, adding ​$82.50​ to a tuition payment of ​$3,000​.
With a tuition payment plan, you pay the cost of education as you go in installments, making it affordable while also reducing your reliance on student loans.
What Tuition Payment Plans Cover
It's important to note that not all college costs will qualify for installments. College tuition payment plans typically go through the college's payment portal, which means only expenses billed by the school will be covered. For freshmen relying on meal plans and living on campus, this might work well, but if your freshman wants to move into an apartment, those costs will have to be paid separately.
One big expense that won't be covered? Books. Tuition installment plans take care of items charged through the school, and books are typically purchased at the campus bookstore or at an off-campus location. But you can charge books to a credit card and pay the bill later.
Advantages of Tuition Payment Plans
For students and families who can afford them, tuition payment plans can be a great alternative to interest-bearing loans. Consider a few advantages that make this option worth checking into.
​No interest:​ School and private student loans can help with getting an education, but the student loan interest can add up. Tuition payment plans give you an interest-free way to pay as you go.
​Low enrollment fees:​ In some cases, schools will charge a small fee for paying in installments rather than paying up front. When compared to interest on a loan, though, these costs are minimal. Check the FAQs to see if they are waived for early class registration.
​Easy signup:​ In most cases, you'll see the option to sign up when you're billed. If not, the bursar's office typically will have a way to enroll quickly and easily.
​Easy payment:​ Once you've set up a payment plan, paying your tuition bill is usually easy. Simply log into the portal and pay the amount due by the due date. Some schools even let you set up autopay to ensure that you never miss a payment.
​Automatic eligibility:​ Unlike loans, there's no credit check involved in tuition payment plans. You'll be moving money directly from your checking account, so it's simply another way to pay your college bill.
Higher education costs can be tough, but there are multiple options for paying them. Tuition payment plans let you pay as you go without having to come up with a large amount at the start of each semester. It's worth it to take advantage of whichever tuition managment options you can.