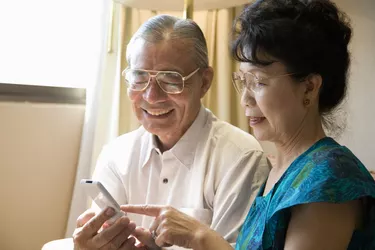 Many are familiar with traditional banks that offer branch offices where customers can walk in and make deposits. With online-only banks, this is not an option. However, online banks offer several other methods for customers to make deposits, and most have similar funds availability policies to stand-alone branches. In some instances, making a deposit to an online account is even more convenient, since transactions can be completed 24 hours a day from the comfort of your home.
Mobile Apps
Most online banks offer mobile apps on Apple, Android and Windows 8 platforms. These apps allow you to deposit from your phone by snapping a picture of any checks you're depositing. To use the app for deposits, you must have an account with the bank and register through its website for online access. You'll need your login information from your online registration to access your account through the app.
Direct Deposit
When you open an online bank account, you're provided with a routing and account number. With these two numbers, you can request a direct deposit of your paycheck or government benefits. Taking advantage of direct deposit means your money is sent to your account electronically and is available the same day or the next business day.
Transfers
You can also make deposits to an online bank account by transferring money. If the transfer is between two accounts held by the bank, your funds are available immediately. You can also transfer money to your online account from an account you hold at a different bank if you're a signer on both accounts. Funds from the transfer may take a few business days to process and become available.
Mail and ATM
Online banks also accept deposits by mail. You can send checks, money orders and cashier's checks for deposit by mail through an address your online bank provides. You can't send cash in the mail, so purchase a money order for any cash deposits and mail the money order. Some online banks also partner with ATM providers to accept deposits. Instructions for making deposits by mail or ATM are available on your bank's website.