Most retailers and restaurants are open late, but that's not the case with banks. Often they're only open for business during the day, so making deposits can be an issue if you can't get to the branch during those hours. Most institutions try to minimize the inconvenience by offering a number of after-hours deposit options.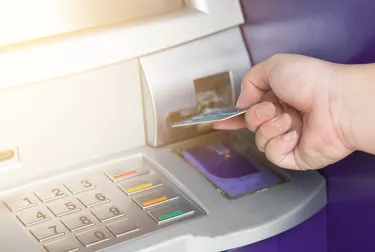 Pick an ATM
Most banks offer an ATM for after-hours banking. You can use your ATM or debit card to conduct a variety of banking transactions. You can deposit funds, as well as make withdrawals and balance inquiries, at an ATM 24 hours per day, seven days a week. An ATM will accept cash and check deposits, but typically does not accept coins. In many cases, funds from an ATM deposit may take as long as 72 hours to become available in your account, but some ATMs are equipped with technology that validates deposits and makes some or all of the funds available immediately.
Mobile Banking
Some banks offer mobile apps, which let you complete a deposit by taking a photo of the front and back of a check. Bank software scans critical information on the check, including the routing number, account number and amount shown, then electronically process the deposit. Availability of funds varies considerably from bank to bank, and some banks may take several business days to make funds deposited via a mobile app available. Some banks also place limits on the amount you can deposit per day via a mobile app, and no bank allows you to deposit cash via a mobile app.
Overnight Deposit Box
Some banks offer an overnight deposit box for high-end and business customers. Customers use special currency bags to make deposits 24 hours per day. Banks typically require customers to purchase the bags, and some banks charge a monthly fee for overnight deposit box access. Some banks, though, make overnight deposit boxes available to all customers. Funds you deposit via an overnight deposit box are typically available the next business day, but some checks may take a few days to clear.
Other Options
Banks typically accept incoming wire transfers 24 hours per day, though these transfers may not appear in your account until the following business day. If you have funds in an online account with a payment service such as Paypal, you may be able to transfer funds into your bank account at any time with little or no delay for processing.