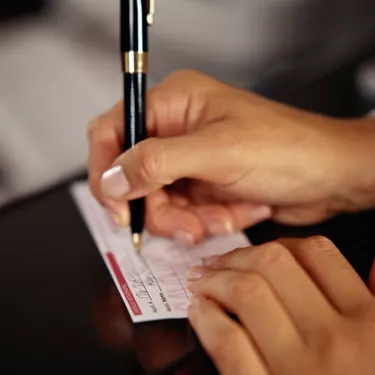 If you receive cash or checks personally or for your small business, you may want to deposit those funds into your personal or business bank account. If you receive payroll checks from your employer, you can ask about direct deposit and avoid making bank deposits, but if you receive a check or other paper form of payment from others or your employer does not offer direct deposit, you usually must rely on manual methods for depositing the money in your bank account. Most banks offer three methods for depositing funds: deposit in person, deposit by mail and deposit by ATM.
Deposit in Person
Step 1
Prepare your deposit slip by listing each check or the exact amount of cash for the deposit.
Step 2
Make a copy of the deposit slip and checks if the deposit is for your business, or you need a copy for your personal records.
Step 3
Visit the closest bank branch and provide the teller your deposit either inside the bank or at the drive-through window.
Deposit by ATM
Step 1
Visit the closest bank branch and obtain a deposit envelope from the ATM machine.
Step 2
Write your account number, name and other required information on the deposit envelope and place the checks or cash inside. Seal the envelope.
Step 3
Swipe your ATM card in the machine and select the deposit option.
Step 4
Enter the amount of your deposit when the prompt appears.
Step 5
Insert your deposit envelope in the slot provided on the machine and wait to receive your receipt.
Deposit by Mail
Step 1
Contact your bank and ask how to make deposits by mail. Some banks have special mailing envelopes and a specific mailing address where the bank receives and processes mailed deposits. It is not safe to make cash deposits by mail so use this option only for checks.
Step 2
Prepare the deposit by mail deposit slip and envelope according to the instructions received by your bank.
Step 3
Mail the deposit to the appropriate processing center.
Tip
You should always check your bank account online to ensure that deposits have been posted, especially when making a deposit by ATM or mail.
If the deposit is for your business, remember to record the deposit to your accounting general ledger.
Some banks offer online deposits to business customers by using a specialty scanner to scan the checks and transmit them to the bank for deposit to your business account.
Some banks offer smartphone applications that allow you make a bank deposit by phone by attaching a picture of the check to the information submitted through the deposit application. (REF 3)