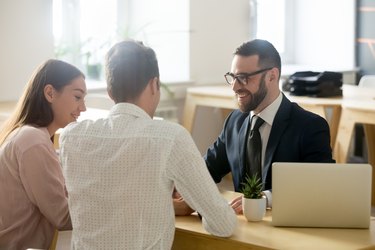 Although much of banking today is electronic, you'll still occasionally deal with paper checks. When you have a check you need to deposit, you'll first have to get a deposit ticket. You'll then simply use the spaces on the front of the deposit ticket for the first three or four checks, using the back if you have more checks than space allows.
What Is a Deposit Slip?
Deposit slips are designed to protect both you and the bank when you put money into your account. If you later see that the amount reflected on your statement doesn't match what was on the deposit slip, that piece of paper will prove crucial. You can find deposit tickets at the bank, usually in an area designed for customers to complete them before approaching the teller. If you have a checkbook, there should also be a small number of deposit slips in the back of each book.
The best thing about the checking deposit slips with your checks is that account-specific information will already be printed on them. It should have your name and address, as well as the routing number and account number. If you use one of the slips provided at the bank, you'll have to write in all that information.
Completing Your Deposit Slip
Once you've verified that your account number is on your deposit slip, you'll need to fill out the other lines. This starts with inputting the date on the date line on the left. Beneath that is a line you'll sign only if you plan to ask for cash back from your withdrawal, then the bank's name. If you have a Bank of America deposit slip, for instance, you'll see "Bank of America" beneath the signature line.
Information on the checks you're depositing will go on the right-hand side of your checking deposit slip. There are usually only three or four lines for inputting check information. If you have more than that, you'll flip over and list them on the back, where there are many more lines for checks. You'll total those and then carry the total over to the front of the form on the line that reads Or Total from Reverse.
Listing Your Checks
You'll need to list each check separately on your deposit ticket, with the check number and amount on each line. Writing the check number helps the bank more easily match which check went with which dollar amount, as well as providing a good record for you if you ever have to go back to it.
Most slips are fairly standard, whether it's a Bank of America deposit slip or one issued by a local credit union. There's a line at the top for cash that you can complete if you have cash to deposit. You'll total up everything you've entered and, if you want cash back, you'll enter that amount on the Less Cash Received line. You'll then include a total at the bottom.
Mobile Check Deposits
Thanks to mobile deposit, you can now drop checks into your bank account without even leaving the house. Best of all, you won't even need any paperwork to do this. With Bank of America, for instance, you simply snap a picture of the front and back of the check within the app, with no need to hunt down a Bank of America deposit slip.
Another place you don't need a checking deposit slip is the ATM. At one time, you had to insert your cash and checks in an envelope before dropping it into the ATM. Today, you simply sign your checks and insert them in a stack, when prompted, and the machine verifies the totals before finalizing the deposit.