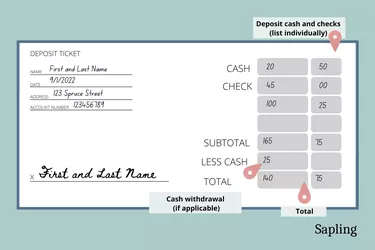 Some banks still require customers to fill out a deposit slip for certain transactions. This document can be paper or electronic and should include your name, account name, type of bank deposit and other details. For example, if you receive a check and want to deposit all or part of it into your bank account, you may need to fill out a deposit slip. Generally, it's not necessary to complete a bank deposit slip for ATM or mobile deposits, which makes things a little easier.
The Role of Deposit Slips
More and more consumers are using online banking to receive or send money, deposit funds and apply for credit or loans, reports the Federal Deposit Insurance Corporation. Due to this trend, most banks have simplified their procedures and may no longer require filing paperwork for basic operations. However, there are cases where you may still have to fill out a deposit slip, money order and other documents.
A bank deposit slip is a paper or digital document issued by financial institutions, like banks and credit unions. This form ensures the money goes to the right checking or savings account when you make a cash deposit. You may also need to fill it out for check deposits and, rarely, for mobile deposits. Generally, deposit slips are required for paper documentation for businesses, but their usage may vary from country to country.
The receipt you get when making a deposit only shows the total amount of cash. Deposit slips, by comparison, include information on the amounts and types of funds (e.g., cash and coins) that make up the total deposit. Therefore, these documents can help the bank or credit union track your money if something goes wrong.
Filling Out a Deposit Slip
It takes minutes to fill out a deposit slip, but first, you need to prepare your account number and the bank's routing number. If you request this form directly from your bank or credit union, it should have the routing number printed on it. Keep a calculator at hand too. Next, you'll have to enter the following information:
Enter Your Personal Details
First, write your full name along with the current date. Some deposit slip forms may also require your address. Next, enter your bank account number.
Enter each cash amount, the amount you're withdrawing (if applicable) and the total amount of cash you want to deposit. You may also see a section for checks. Leave it blank if you're making a cash deposit or enter the check number and amount for check deposits.
For example, someone who wants to deposit a check and withdraw some of the funds will first list the subtotal, or the amount of money they plan to deposit. Next, you must enter the amount you wish to withdraw on the "less cash received" line and then subtract it from the sum of your deposits to calculate the total deposit amount.
Last, sign the document and hand it to the teller. This step isn't typically required for ATM or mobile deposits. Also, your signature may not be needed if you don't want to get any cash back.
The exact steps for filling out deposit slips vary from one financial institution to another, explains the Goodwill Community Foundation. If you're not sure how to proceed, contact your local bank by phone or visit the nearest branch and talk with a bank employee. You can also choose to deposit cash via the bank's mobile app. In this case, completing a deposit slip may not be necessary unless you're a business user or someone transferring large amounts of money.
Capital One, for example, doesn't require filling out a deposit slip for online transactions. However, the depositor must sign their name on the back of the check and take photos of both sides of the check via the bank's mobile app. If you plan to deposit multiple checks, you'll have to take photos and sign your name on each check.
Financial institutions must ensure the deposit slips received are as detailed as possible, notes the Office of the Washington State Auditor. For this reason, some banks may request additional information, especially from business users. As a consumer, you must fill out a deposit slip before initiating the transaction.
Alternatively, you may request a digital deposit slip via online banking or use a pre-printed one from your checkbook. In either case, your personal information and account number may be listed on the deposit slip, eliminating the need to manually enter these details.
Filling out a bank deposit slip can be tricky, especially if you've never done it before. With that in mind, here are some things you should know about this process.
What Is the Most Important Thing That You Should Do After Filling Out a Deposit Slip?
The most important thing you should do after filling out a deposit slip is to double-check it for accuracy. Make sure each check or cash amount is listed individually and that your personal information is correct. Remember to add decimals and commas as needed.
What Does the "Memo" Field on a Deposit Slip Represent?
A deposit slip may have a section called "Memo" or "For." Here you can enter additional details about the transaction, such as a description of the deposit. This field is optional, but you may fill it out with any information you find relevant.
What Information Should Be on the Back of a Deposit Slip?
The back of a deposit slip may have additional boxes that should be filled out when depositing two or more checks. Use this section to enter the check number and other relevant information.