There are different ways to deposit money into your bank account. The old-fashioned way of walking into a bank is still a valid option. After banking hours, you can make your deposit into an Automated Teller Machine (ATM). And in today's digital age, you can even make a mobile deposit.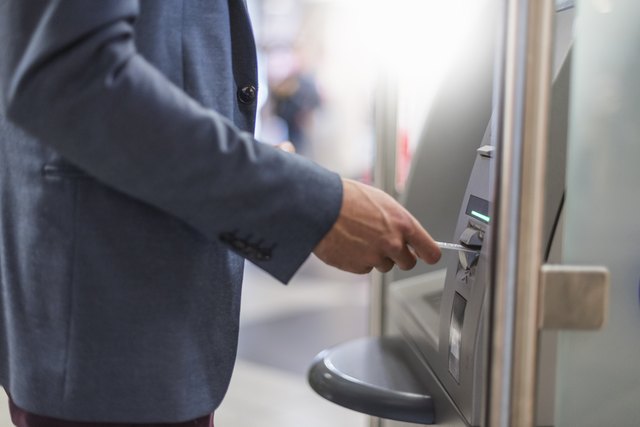 credit: Westend61/Westend61/GettyImages
Step
The most popular method of depositing funds into a checking account is going directly to the bank. Your bank has several different forms to fill out, but you should choose the checking deposit slip. Fill in your name, address, current date, account number, state, city and the amount of money you are depositing to your account. Make sure you have your check, money order or cash in hand; then go to the teller and tell him you would like to make a deposit.
Step
If you have saved up many coins in a container for months or years, you may be able to take the container to your bank to have your coins converted into dollar bills. (Some banks won't accept rolled-up coins for deposit.) To save time, you can buy paper bank rolls (most are color coded to separate pennies from quarters and other coins) at your local dollar store and put the coins in the rolls yourself. Or the bank can do it for you. The bank may also be able to count the money in a coin machine for free. Know that most banks will ask for your account number before accepting your deposit.
Step
Instead of waiting in long lines at a branch, you can use an ATM machine, which offers a quick way to deposit money in your bank account. The only thing you need to do is put your ATM card in the machine, type in your PIN (personal identification number) and select your checking account and the amount of money you are depositing. There are envelopes provided by your financial institution available at the ATM that have a place on the front of the envelope to write down your account and deposit information. Checks must be endorsed by the account holder.
For added security, you can fill out a deposit slip the same way as in Step 1 and insert it into the envelope with your deposit. When prompted, insert the envelope into the ATM machine. You will probably have to wait for a few moments for the deposit to be processed before receiving a receipt.
Step
If you have a bank account added to your PayPal account, you can easily transfer your funds directly to your bank. Just go to the PayPal website and click on the "Account" tab. Then go to the "Withdraw" tab. Click the "Transfer to Bank Account" link, type in the amount of money you are sending to the bank account and press "Continue." You will see details of your transaction. After reviewing them, click the "Submit" button. Your deposit will be pending for a day or more, depending on your bank's policy.
Step
Choosing to add direct deposit to your checking account is an excellent option that will save both time and money. Most employers offer their employees the option to set up direct deposit through the company's payroll department. You will need to provide the payroll clerk with information about your bank account such as the account and routing numbers. The best option is to bring in a voided check to provide the information and ensure its accuracy. After the account is set up you will begin to receive your wages directly deposited into your designated checking account. Setting up direct deposit will save time and money that you would have spent going to the bank.