Many people bank online or through an ATM because it's more convenient and can be done when they have the time. However, there are times when a person might want to conduct business at a banking location. For example, if someone wants to make a substantial withdrawal from a checking or savings account, going to a branch might be necessary because of restrictions on the amount that can be taken from an ATM. Or perhaps a person just feels safer receiving cash and securing it in a purse or wallet while still in the bank. Whatever the reason, withdrawing money from a bank is still something some people choose to do.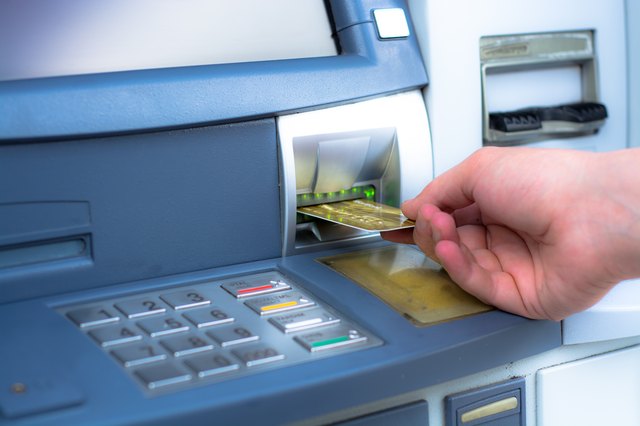 credit: ilkaydede/iStock/GettyImages
Withdrawing Money from a Checking Account
Making a withdrawal from a bank account typically requires a withdrawal slip. These are located at the self-serve stations inside the bank. To make a withdrawal from a checking account, a customer must use the proper slip for withdrawals from that type of account. The slip has areas for the customer's name, bank account number, the amount to withdraw, the date and a signature. Once it's filled out, the teller will review it and check a valid ID. Once the teller has verified identity, she will proceed with the transaction and give the cash and a receipt to the customer.
Or, some banks are equipped with terminals at the teller window that allow customers to withdraw money with their debit card. The customer simply swipes the card, enters the PIN attached to the card and tells the teller the amount for withdrawal.
As another option, a customer can write a check for the amount to withdraw. In the "Pay to the Order Of" portion of his check, the customer can writer either "Cash" or his name. Then, he should fill out the amount to withdraw (both the written and numeric forms) and sign the check. Once it's his turn with the teller, he should endorse the check by signing the back on the endorsement line and present the check with a valid ID to the teller.
Withdrawing Money from a Savings Account
Withdrawing money from a savings account is a similar process. To receive money from a savings account, the customer will need a slip, only this time it will indicate the withdrawal is to come from a savings account. Usually, the checking and savings withdrawal slips are different colors and say which account they represent. Again, the customer will need to fill in the account number and his name as it is written on the account. Then, the customer will fill out the amount to withdraw and sign the slip. The teller will ask for the slip and to see a valid ID. Once the teller has verified the customer's identity, she will distribute the money and a receipt.